On Sunday, Chaser was exactly two and a half years old since launch. Today we're really excited to launch our new website. It's the starting gun for a 2017 that promises to be a hugely exciting year for Chaser and the thousands of businesses we're fortunate to work with as customers. With the launch of the new site it gives me an opportunity to clarify who Chaser are, where we've come from and where we're going now.

The Story So Far
We launched on 19 August 2014 with the aim of transforming credit control. We were born out of my experience as a Finance Director; working at Fever-Tree, WAYN and Idio, all of whom sold on payment terms. I thought there had to be a way for technology to make credit control better. So I started Chaser to build incredible cloud-based software to do just that.
We, and I especially, have made more mistakes than I thought humanly possible over the last two and half years. Though I'm proud to say that we've yet to make the same one twice! At the same time, we've been fortunate to enjoy some great successes. Don't worry I won't bother regurgitating them here. Besides, this website has been well designed such that they shouldn't be hard to find!
What continues to bring me the most satisfaction as a Founder is the impact we've had for our users. Not the stats about the benefits we deliver (again - our website isn't shy about highlighting these!). But rather the personal stories, like the $50k of cashflow boost generated after implementing Chaser that enabled the employment of a new salesperson. An act that just wouldn't have been possible without the impact from using Chaser to transform their credit control. It's such a thrill to know how our software is so materially improving your credit control outcomes.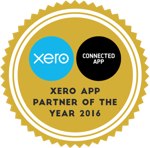 2016 - A Year Of Transition
2016 was a really significant year for us as a company.
We were hugely proud that leading cloud accounting software provider Xero, who we integrate with, named us their App Partner of the Year for 2016.
We said farewell to Mark, our original Co-Founder, who left Chaser to move back into academia. In making that transition we changed the way that we work as a team. We now have employees based in our London head office, alongside remote team members around the world. It has been an exciting challenge to learn how to work effectively together as a partially remote working team. And we're hugely excited by the ability this now gives us to work with credit control enthusiasts across the globe!
2016 was also the year we realised that Chaser is not a product for every business that sells on payment terms. Credit control is a race where you are competing against other suppliers to your customer as to who gets their invoice paid first. It took me too long to realise that this is not a race that everyone wants to win. For smaller businesses, as long as there is enough money in the bank at the end of the month to cover costs, that's enough. Minimising debtor days, freeing up cashflow to invest in growing the business, was a nice to have compared to other operational necessities of running their business. Rather than Chaser, there is an increasing plethora of solid built in reminder functionality within cloud accounting systems that is sufficient for these businesses' needs.
We realised that Chaser is for businesses who recognise the importance of credit control as a distinct and essential business function. It's for businesses who are willing to invest the time and money in their credit control process. We repositioned Chaser as the essential product for any finance team eager to make their credit control the very best that it can be.
Where we're going now
As I said at the outset, 2017 is going to be a huge year for Chaser and our customers. You will be seeing an abundance of exciting developments to the product, starting with our new reporting suite which we will release to the product next Friday (check out the release here!). This will transform the information you have at your disposal to review, and meet to discuss, your credit control performance. And this is just the tip of the iceberg.
We will also be drawing on our expertise and knowledge to deliver a rich array of useful content about making your credit control the best it can be. So look out for tips, insights and advice from us about credit control best practice. Be sure to join our blog mailing list to ensure you don't miss out.
And finally....
A huge thank you to Andrew and Rose, the hugely talented team at Hopscotch for their amazing (and tireless!) work on our new website.
Thanks for reading. If we're not already, I hope we have the opportunity to help you transform your credit control with Chaser. Our work will never be done with Chaser as a product. There will always be more that we will want to do to improve your credit control. My experience over the last two and half years is that the best ideas often come from our users (and potential users).
I'd love to hear your ideas for how we can make credit control better for you, so please do get in touch at david@chaser.io.