I am extremely proud to announce Chaser has won B2B Supplier of the Year at the CICM British Credit Awards 2022. This award recognises suppliers delivering innovative and effective solutions for B2B credit teams who have achieved demonstrable benefits to their clients.
Judges praised Chaser's entry for allowing credit teams to automate the accounts receivables process without losing the human touch with their customers. It is Chaser's mission to help SMEs worldwide get paid in an efficient and friendly way so that can improve cash flow. This award highlights the ability Chaser users have to automate tasks without compromising their customer relationships, due to the deep personalisation features available.


Chaser has won B2B Supplier of the Year at the CICM British Credit Awards 2022, and is praised for allowing credit teams to automate the accounts receivables process without losing the human touch with their customers

The CICM British Credit Awards recognise the stand-out achievements of the most deserving individuals, teams and organisations in the international credit industry, and after being shortlisted for two CICM awards, we are honored to have our work recognised by being awarded B2B supplier of the year.
We are delighted to be winners at the CICM British Credit Awards 2022 alongside businesses like Skyscanner, Associated British Ports, Escalate Law, Shoosmiths LLP, IncomeMax, Company Watch, and many more.
The awards ceremony took place at the Royal Lancaster London where the team celebrated their win alongside key businesses in the UK credit management industry.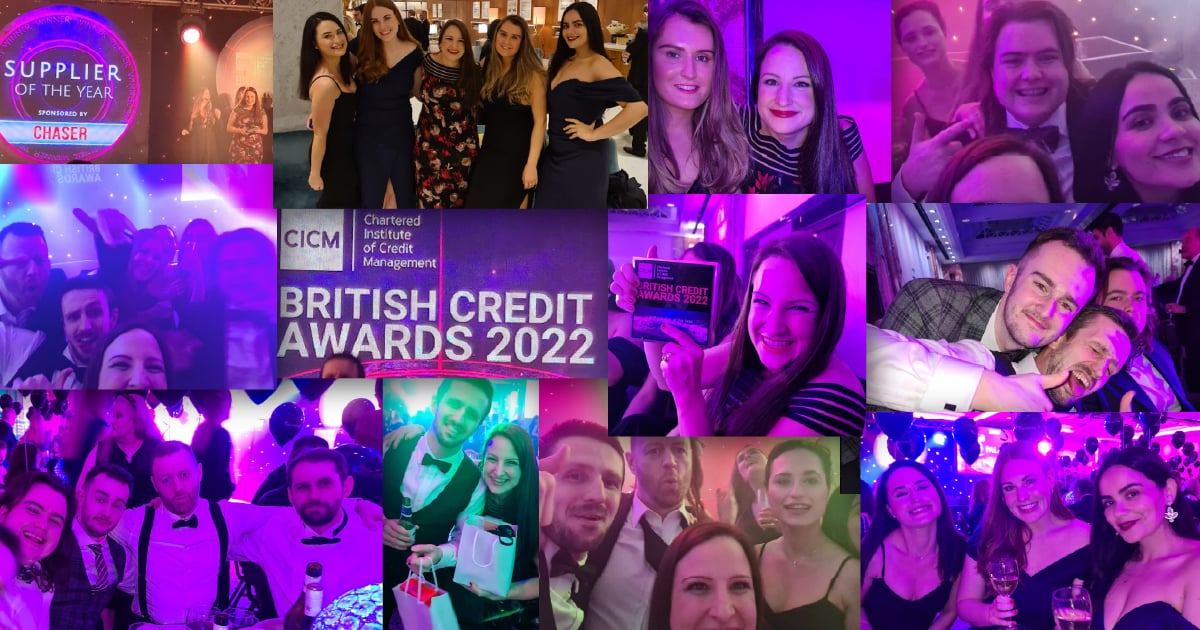 Chaser was a category sponsor for the CICM British Credit Awards 2022 Supplier of the Year category. A big congratulations to Escalate Law who won this award, and we were honored to present you with your trophy at the ceremony. B2B Supplier of the Year
The British Credit Awards' B2B Supplier of the Year award recognises suppliers in the credit management industry delivering innovative and effective solutions for B2B credit teams.
Chaser's accounts receivable software was developed in 2014 to help reduce late payments and their negative impacts on SMEs. Our mission is to help businesses worldwide get paid in an efficient and friendly way so they improve cash flow.
Since 2014, we have become the highest-rated accounts receivable software and supported businesses in chasing and recovering over $9bn in late payments.
In 2021 we launched end-to-end receivables automation, allowing B2B credit teams to automate the entire receivables process within one comprehensive system.
Chaser provides accounts receivable automation and credit control services to businesses globally, helping them reduce late payments and get invoices paid in the most efficient and friendly way possible.
With the launch of end-to-end accounts receivables automation, users can now credit check, monitor debtors, chase late invoices, collect payments, recover debt and reconcile accounts, all in the same unique platform.
By sending automatic and deeply personalised payment reminders, the software and service provider effectively gets invoices paid on time without losing the human touch.
Chaser uses the data in user's accounting systems to report on, chase and collect outstanding receivables. Chaser is set up to synchronise with the data in users' accounting system every hour, updating data across both systems simultaneously. This ensures users have a seamless tool to manage their receivables end-to-end which is always up to date with the most accurate data.
During the pandemic, Chaser users were facing increasing issues with bad debts and lacking the internal resources to prevent and handle these bad debts.
In response to user research on the problems being faced, Chaser launched the services Chaser Collections and Outsourced Credit Control as an extension to its software offering.
This gave users the option to escalate difficult invoices to Chaser's friendly debt recovery service within the Chaser software in just two clicks.
Additionally, when credit teams needed external support - or someone who simply had the time to pick up the phone and speak with customers about their overdue payments, they could use Chaser's Outsourced Credit Control service. This service lets users purchase as many or as few hours as required month-by-month from their dedicated credit controller.
Chaser users can easily track every interaction between their debt collector or Outsourced Credit Controller and their customer, within the Chaser receivables CRM. All communications including responses are automatically tracked, providing full visibility and peace of mind for users.
Before 2020, Chaser users only had access to accounts receivable software which allowed automated payment chasing. The software was focused only around the chasing of outstanding invoices, but did not address other areas of the receivables process, requiring users to switch between multiple systems to complete different tasks (e.g. credit checking, escalating to a collections agency, a separate payment gateway).
With access to all receivables functionalities in one place, users can minimise late payments and speed up the receivables processes - improving their business' cash flow and efficiency.
What Chaser supplied users before 2020:
Chase: automatically chase outstanding invoices in a personalised, friendly way
Reconcile: sync with your accounting system automatically, so you always work with the most up-to-date data
What Chaser supplies to users now:
Check: check a company's credit score with one click in app
Track: keep track of your debtors and all communications in the receivables CRM
Chase
Collect: easily collect late payments through the Chaser Payment Portal
Recover: recover debts with Chaser's friendly collections team
Reconcile
Outsource: the option to outsource all of, or any element of their receivables process
Results for Chaser users
With end-to-end features, users have achieved astonishing efficiency improvements. "Indispensable tool, I convey the same friendliness and tone I would use manually and we're saving 15+ hours per-week" - Rossana, Credit Control Manager, LoveBrands.
The Payment Portal, a key feature in providing end-to-end automation, launched in January and has already sped-up 600+ payments.
Giving customers varied options within the Payment Portal (transfer, card payment, pay-all, request payment plan, dispute) has sped-up payments for users like WrenAccountancy:
"We're already so pleased, we've reduced debtors from £100k+ to approx. £40k" - Ravi, Director, WrenAccountancy
Chaser Collections users have collected £300,000+ of old debt which would have otherwise been written-off. HuttieGroup, users for just six months, have recovered £15,600. Tom, their FD says:

"Of all invoices we have put through, more than 90% have received a response, and over 80% have already been paid"

These results don't come at the expense of customer relationships:
"We've never had a complaint, everything is out in the open and handled very nicely, the emails sent look like something we would write ourselves".
Businesses like agency GlazeDigital with limited internal resources to follow-up on payments effectively, and with too few invoices to require a full-time credit controller have experienced huge efficiency and cost-savings.
GlazeDigital's Outsourced Credit Controller recovered debts they never thought possible - including an installment on a £16,500 debt that's 2+ years overdue, and has helped the business get paid 24+ days faster on average.
"I'm surprised more businesses aren't doing this. The time-saving alone is enough justification, let alone the improvements in our credit control!" - Richard, Director, GlazeDigital.
During 2021 Chaser accelerated the expansion of solutions for B2B credit teams, giving businesses the flexibility to automate any area of their receivables process through software, and outsource any part of their receivables or collections process to a friendly team. We are delighted to have our work over the course of 2021 recognised by the CICM British Credit Awards.