With over 2,500 entries a year, the AVA Digital Awards is an international competition that recognizes outstanding work by creative professionals involved in the concept, direction, design, and production of media that is part of the evolution of digital communication. Work ranges from audio and video productions, animation, interactive websites, blogs, podcasts, social media sites, and other forms of user-generated communication.
Entries are judged individually and given a "grade". Entries receiving scores of 90-100 are Platinum Winners. Scores of 80-89 are Gold Winners and 70-79 are Honorable Mention Winners. Judges are industry professionals who look for companies and individuals whose talent exceeds a high standard of excellence and whose work serves as a benchmark for the industry. In the past, about 16 percent of entries won Platinum, the top award, and around 19 percent the Gold Award. Approximately 10 percent were Honorable Mention winners.
Chaser's website has been granted the Gold Website Award.
Judges looked at variety factors including: design (responsiveness, legible font text, tap targets), ease of use, clarity of text/copy, SEO (page index, meta descriptions, content plugin, descriptive link text), performance (page speed, page requests, page size) and mobile design.
2020 was a year of massive change for Chaser in terms of leadership, product vision, marketing innovation and commercial strategy. With this came the development of a new vision, mission and set of core values that are driving the "new" Chaser forward, with the aim, of course, of better serving our customers and partners. Inevitably, with this change, a rebrand and a new website tend to follow.
In late November, Chaser redeveloped, redesigned and launched a new website. With the benefits of customers and web visitors at the forefront of the development and design strategy (Who are we building this website for? What do they want from our website? How can they quickly get the information they most need?), the new website was launched with a clean, crisp look and copywriting that spoke to the audience.
In two months time, the number of visitors per month rose and the conversion rate from web-to-lead increased further.
Amongst the many changes, we wrote new content, restructured the navigation, enhanced the user experience and pushed the boundaries with our new brand identity. We started the redesigning project by conducting research into our website's analytics to see how our visitors were using the website. Using this data, we could see what the website did well and what we could improve on.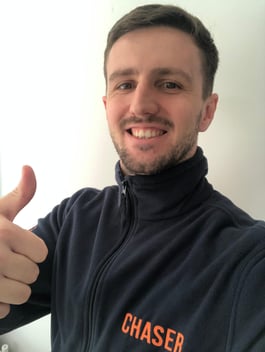 The launch of our website is the end result of a lot of hard work designing, developing and testing which is the end of an exciting phase. However, it's also the beginning of an equally exciting phase where we will be building on the new brand and for the website we'll be adding lots of new content, developing new features and improving existing ones.
It is an honour to be counted as one of the Gold winners for B2B websites amongst the 2500+ registrants. Developed completely in-house by Integrated Designer Dean Norris, the success of the website was a true cross-departmental effort and is a testament to Chaser's ability to work effectively as a team, and to embody the company value 'We care'.
Contributors include Amaya Woods, Duarte Fernandes, Amy Jordan, Ben Moffat, Inga Schibsted, Alice Hickie, Ash Corah, Pedro Sampaio, Mark Robertson, Onno Visser and Ricardo Vieira. Team: Congratulations on your achievement.
With newcomers and as the company grows, we are thrilled to see the website consistently evolve to support and help our customers every step of the way.
Platinum and Gold Winners are listed on AVA's website's winner's list at www.avaawards.com.