CHALLENGE
Finding the sweet spot between hands-on credit control and affordable on-demand invoice chasing
In many ways, Glaze Digital were an exemplary modern digital agency. Headquartered in Belfast, Northern Ireland, with both local and international clients, Glaze were ahead of the curve on most things. They transitioned early into remote working, maintained both their local business status, while engaging in global outreach, and had built up a strong niche in ecommerce clients.
Hower, they had one Achilles heel – credit control. With this task kept in-house, their directors were often required to have awkward conversations with valued clients about late payments or invoice breakdowns. With the important business of running the company to attend to, founders Richard Megaw and Mark Kelso needed to outsource this vital part of the day-to-day administration of their business.
When Glaze Digital began using Chaser's Outsourced Credit Control service, it created a vital wall between Glaze's digital marketing work and the onerous challenge of chasing revenue. No more awkward conversations were necessary, with their dedicated outsourced credit controller working on their behalf to protect income and cash flow.
I'm surprised more businesses aren't doing this. The timesaving alone is enough justification for us, let alone the improvements in our credit control! It's definitely a job function I no longer have to do and lets me focus more of my time on other tasks
RICHARD MEGAW
Director at Glaze Digital
Glaze Digital had built up a growing roster of ecommerce clients. When the COVID-19 pandemic struck in Spring 2020, it created additional work pressures, necessitating a swifter shift towards remote working. The pandemic created problems for Glaze's clients too, as consumer behaviour changed, and the economy shrank. This resulted in a cascade of knock-on effects in terms of revenue protection and credit control.

At that time, Richard and Mark were using the automated invoice chasing app included with the Xero accounting platform. But these auto-generated reminders were often simply ignored. Furthermore, with just 30 minutes in their working week to devote to chasing up late or missing payments, Glaze's founders were becoming overwhelmed. When they realized that over 50% of their invoices were paid late or under duress, it became obvious that something needed to change.
SOLUTION
Partnering with Chaser to automate credit control and protect revenue, while preserving client relationships
Chaser's Outsourced Credit Control service offered a comprehensive credit control
solution for Glaze Digital. After a set up call to meet their Outsourced Credit Controller
at Chaser, the business' Xero accounting system was integrated with Chaser. As a
standard, the Xero accounting system integration with Chaser took just 2 minutes to
complete. Through the two-way integration between Xero and Chaser, it means Glaze
Digital's customer and invoice data was available and always up to date within the
Chaser software. This meant a fast handover for Glaze Digital, as their Outsourced Credit
Controller had access to all debtor information in just 2 minutes - and Glaze Digital did not
have to send any future debtor updates across manually.

Glaze submitted around 40 invoices per month, which was a high enough volume to challenge their directors, but not sufficient to warrant hiring an in-house credit controller. Chaser was the perfect solution – a more personal way of pursuing unpaid invoices which provided greater oversight and more useful data on revenue protection, as well as making significant efficiency savings.
On-demand access to credit control
Chaser's on-demand model allowed Glaze to request as many or as few hours of credit control activity as each month required. This meant Richard and Mark weren't paying the salary of an in-house credit controller at quiet periods when they would have much less need for such an individual.
Chaser allows for clients to remain hands-on or buy-in hours of personal Credit Controller time, depending on how much, or how little, they want to be involved.
Real-time oversight of accounts receivables
The Chaser dashboard provides a real-time overview of the results of accounts receivable activity, including:
Automated invoice reminders, personalized to the businesses brand and style.
Bespoke reminder scheduling, with periods and content set by the client.
Fully auditable communication trail including customer replies in one location.
Insights into client late payment behavior (and improvement progress).
Simple invoicing portal, providing multiple methods of payment.
Two-way syncs and updates with the business' accounting software.
Access to a debt collection service, when all else fails.
A personal service, under the Glaze Digital brand
Glaze Digital wanted a personal touch, with client contacts made under their corporate banner.T
heir Chaser Credit controller provided a highly personal touch when contacting Glaze's clients, including:
A courtesy call upon issuing of the invoice.
A second point of contact preceding the invoice due date.
A personalized thank-you note following full and final payment.
Very few reputable businesses are unwilling to pay their invoices. Sometimes they have simply forgotten a due date or are suffering their own short-term cash flow difficulties. Chaser's multi-touch but empathetic approach allowed for an appropriate degree of flexibility, whilst ensuring that all invoices were paid as soon as possible.

Vitally, since none of these reminder calls or emails came directly from Glaze Digital, there was no need for awkward communications between the company's founders and their valued clients. The conversations Richard and Mark did have were once again about the creative and strategic aspects of the projects they were engaged in.

This aspect alone made the decision to outsource credit control a huge source of relief for Glaze. But there was more in store for Glaze Digital than simply efficiency savings. As the company's founders discovered, revenue reclamation was also possible.

One client contacted by Chaser paid an 18-month-old debt of £1000 that the directors had long since written off. Even more impressively, another client who owed £16,500 and hadn't contacted Glaze for over two years, made a first payment of £2000.

Results like these are tantamount to the expertise that Chaser's Outsourced Credit Control service was able to wield. Not only that, but relationships remained convivial between clients and Glaze Digital. Chaser used Glaze Digital branding on their communications, which made them feel "part of the team" whilst preserving that all-important wall of separation between the creative conversations and the payment reminders.
Our credit controller is able to communicate with clients about their payments to an extent we never could internally. She will phone overdue clients and nine times out of ten they want to pay but simply forgot, needed that extra reminder, and then just pay!
RICHARD MEGAW
Director at Glaze Digital
RESULTS
Providing a complete Outsourced Credit Control service
Glaze Digital were delighted with the results they began to see immediately after starting with Chaser's Outsourced Credit Control service. No longer did the company's directors have to carve out small slices of time to pursue unpaid invoices or try to juggle multiple revenue streams with a host of different due dates. Nor were they required to make the kinds of calls they dreaded – pursuing unpaid debts and querying late payments. Finally, the balance sheet was looking healthier than ever as revenue increased, without the need to hire a full-time credit controller.

In summary, here are the benefits Glaze experienced, joining forces with Chaser:
Reduction in payment days – down from 88 to 64 on average.
Thousands of pounds in recovered debt, much of it significantly outstanding.
Greater process efficiency in invoice generation and fulfilment.
On-demand model meant thousands saved in employing an in-house credit controller.
No more awkward payment chasing conversations.
Improved relationships with clients, who found payment reminders helpful.
Improved focus on the work Glaze loved – producing successful digital campaigns for their clients.
When humans work at something they love, it is easy to forget that a business is only as successful as its cash flow and credit. Protecting the stream of revenue is vital in a volatile economic environment, such as that occasioned by the 2020-21 pandemic.

However, it still pays to employ a firm but light touch, to find the sweet spot between gentle nudges and regular reminders. Chaser's specialty lay in ensuring that Glaze Digital could realize a greater percentage of their revenue, on time, without the strongarm tactics of external debt collection agencies (although those are available where necessary). They preserved client relationships by maintaining a personable and professional tone throughout all their communications.

The decision Glaze Digital made to outsource their invoice generation and payment chasing to Chaser was a game-changer for the company. Let's leave the last words to Glaze Digital's co-founder.
Our clients have built great relationships with our Outsourced Credit Controller and are always thanking her for her payment reminders. To clients, it's somebody who works for Glaze - they have a Glaze email address, use our branding and style, and really feel like part of our team.
RICHARD MEGAW
Director at Glaze Digital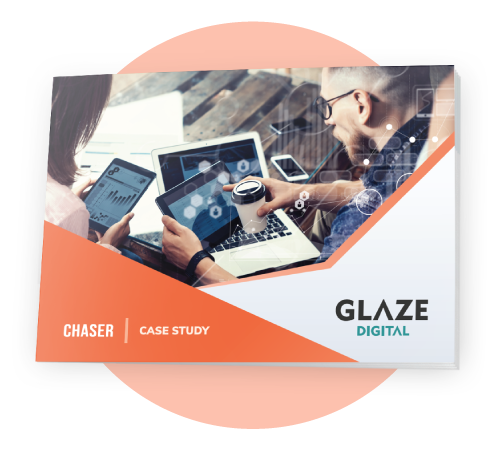 Download PDF
Download the full user story
See the full story how Outsourced Credit Control has helped marketing agency Glaze Digital increase efficiency and cost savings, whilst maintaining their brilliant client relationships.
Download customer story