CHALLENGE
Expediting customer payments and maintaining positive cash flow while strengthening customer relationships
TaxAssist Accountants offer their wide range of clients a huge range of essential financial services that extend well beyond simple bookkeeping, including, tax planning, business finance, compliance, financial planning, and debt recovery.

Their unique value proposition is full management of their customer's accountancy and tax process in a manner that improves the efficiency of their accounts receivable and ensures a consistent cash flow through the use of high-level customer support and cutting edge technology.
The three primary blockers faced by TaxAssist when it comes to providing the level of customer service and efficiency improvements that would make their customers' lives considerably easier were the customers themselves, image issues, and overdue accounts.
The first challenge was encouraging customers to put their accountancy and tax process in TaxAssist's hands without constantly dabbling in a manner that creates extra work and delays.

The second challenge was to free up staff to both assist customers and emphasise the full range of services that TaxAssist offers that could be vital to their customer's business.

The third issue was making sure that they received regular payments from their customer, that aligned with their payment terms, and had a way to chase late payments without endangering the client relationships.

With the rapid expansion of the business, TaxAssist Accountants grew increasingly concerned about their accounts receivable process. In a very short period of time, they had seen an increase in accounts that were past due and clients who were looking to dictate the terms of their repayment

They needed to find a way to quickly recover these debts and simultaneously continue to build a positive long-term relationship with their clients.

To help them achieve those objectives, they turned to Chaser.
SOLUTION
Optimising the receivables process and implementing automation without losing the human touch
Initially, TaxAssist used Chaser's cutting edge automation systems internally to overcome their own business process blockers by saving hours of time each day previously spent sending out invoices manually and chasing late payments.

By switching to an automated system, TaxAssist was able to eliminate the awkward phone calls that they needed to repeatedly make to their customers to chase payments.

Overall, partnering with Chaser allowed TaxAssist to save the equivalent of 3-weeks in staff hours that would normally be spent chasing late payments. This time could then be put towards growing the business and providing their customers with the excellent customer service and assistance that has become TaxAssist's hallmark.

This allows them to focus on growing their business, while also helping them to recover the debts that they were owed without negatively impacting their relationship with their customers.

So successful was Chaser in eliminating the blockers that had been stymying TaxAssist's growth, they decided to bring those same benefits to their customers.
Those customers that also adopted Chaser saw equally incredible results.

Chaser's advanced credit control and accounts receivable software helped TaxAssist's clients recover more than £20,000 of unpaid debts in just 30 minutes without any awkward phone calls or manual chasing processes.

Not only did TaxAssist's customers benefit from adopting Chaser, but, through Chaser's Partner Programme, the company was actively rewarded for introducing Chaser to their clients.
Recover more
Quickly escalate any overdue invoices to the Chaser Collections team efficiently. Just a few clicks can help alert the team and let them know that you want to escalate an overdue invoice.
Get paid faster
Chaser's automated solutions help businesses get paid faster through the use of an optimized accounts receivable process with powerful credit control software that works for you 24/7, 365-days a year.

Because it requires little to no oversight, Chaser frees up skilled staff from unproductive and repetitive tasks so they can get back to doing what they do best.
Grow your business
Chaser accounts receivable management software has been built with businesses of all sizes in mind, so whether your business is a start-up or an established firm you'll find the solution for your accounts receivable processes within Chaser's powerful credit control features.
Recover old debt
With Chaser's debt collection service, accounts receivable clients have a powerful tool at their disposal that can help them recover debts that otherwise would have been written off as a loss.

Through a combination of Chaser's innovative approach to debt collection and the professionalism of their outsourced credit control teams, companies have the peace of mind that comes from knowing their accounts receivables are in the hands of experienced professionals.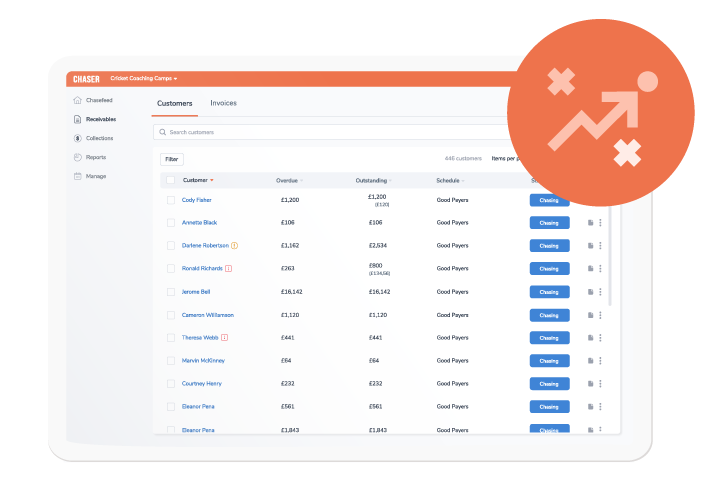 Chaser offers businesses a cutting edge solution to the increasingly overwhelming issue of late payments.

For many businesses, the late payment of invoices is a problem that has been getting worse over recent years.

Research by the Federation of Small Businesses (FSB) shows that, on average, UK small businesses are owed £6,142 in unpaid invoices and 37% of small businesses in the UK have run into cash flow difficulties as a result of late payment.

According to the FSB, if the problem of late payments could be addressed, 50,000 more businesses could be kept open each year.

The Chaser team understands the impact late payments can have on businesses, so they've created a powerful solution to help you get paid quicker.

Chaser offers an unrivalled credit control software that will ensure your business is maximising its cash flow at all times - without having to spend hours chasing invoices through phone calls and emails.

By using an automated Payment Portal, Chaser offers a wider range of payment options and the ability for both businesses and clients to have access to all their invoicing and accounts receivable data in one centralized location.

By making sure that all automated reminders appear to come from a company address and use a company-specific tone of voice, Chaser offers customers all the time and cost-saving benefits of automation, while still preserving that personal touch that is so important to building positive working relationships.
We've seen excellent results with Chaser just chasing our own clients. Great customer service is central to what we do at TaxAssist, and we're now able to speed up payment chasing whilst keeping our messages personalised and polite.
ROBIN JOHNSON
Owner of TaxAssist
RESULTS
Providing a comprehensive automated credit control solution
TaxAssist was thrilled with the outcomes they began to notice after switching to Chaser's automated credit control platform. The company no longer had to waste time and money chasing unpaid invoices.
For example, when chasing client accounts that had fallen behind with payments, TaxAssist used to spend 21-days per year on the phone or writing emails trying to get the customer's attention.
This not only took up valuable staff time and cost money in wages, but the constant phone calls were negatively impacting their customer relationships.
Now, via Chaser's automated platform - which sends direct messages from their company email address using a specific tone of voice - the software handles all the repetitive sending of reminders and ensures a consistent cash flow.
So happy were TaxAssist with the impact Chaser had on their business, they began recommending it to their own clients, who used it to recover £20,000 of debt in just 30-minutes.
In summary, here are the benefits TaxAssist Accountants experienced, joining forces with Chaser:
Reduction in the amount of time chasing unpaid debts.
Closer relationships with their clients, without any awkward phone calls.
The ability to offer a cutting edge credit control platform as part of their drive to provide their customers with excellent service.
Chaser's on-demand model saved TaxAssist thousands over employing an in-house credit controller.
Staff freed-up by the use of automation to focus on growing TaxAssist's business and helping their customers.
In addition to offering all the cost and time-saving benefits of automation, Chaser also enables users to control the tone of voice and language used in each automated email, ensuring that they are always professional and on-brand
Chaser allows businesses to recognize what matters most - their customers - without spending hours on personal calls or having to worry about missing late payments.
Businesses can now focus on growing their customer relationships rather than being bogged down in tedious administrative tasks.
Chaser has been specifically designed to help businesses increase their cash flow and reduce late payments, all at the touch of a button.
By allowing users to automate emails and choose from a variety of styles and tones for each automated email, Chaser frees up valuable time that would otherwise be spent on manual work.
In light of the pressure put on businesses by the pandemic, maintaining a constant cash flow has never been more important, and Chaser is the secret weapon that will help businesses do just that.
It's helped us achieve truly outstanding results for clients - like recovering £20k in old debts for one of our clients in just 30 minutes!
ROBIN JOHNSON
Owner of TaxAssist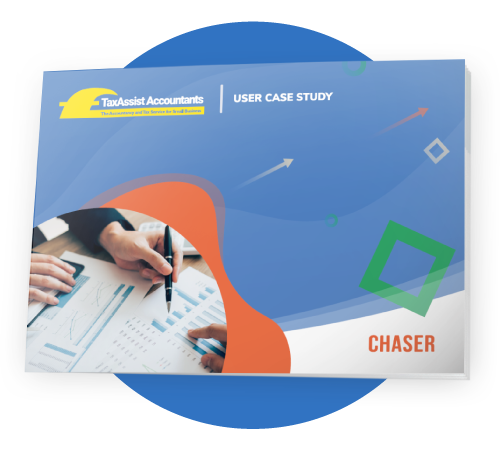 Download PDF
Download the full user story
See how via TaxAssist Norwich help clients recover debts at record speeds and save over three weeks of work on credit control.
Download customer story