Everything happens for a reason
It all started in November 2017. To set the scene, returning from 10 days holiday and battling serious jet lag, I headed to London for Exact, my employer at the time. The news was delivered on my arrival that while Exact would be continuing its product offering in the UK, local support would be taken away and redundancies couldn't be avoided. After 13 great years in the world of accounting software, I had to taste redundancy for the first time and that sinking feeling of what's next?
With the news still fresh in mind, I was off on a pre-planned trip for staff and accountants to attend Exact Live in Holland. An eventful two days and the recent news on everyone's lips, one particular moment stood out for me. A conversation with David Tuck, CEO of Chaser. Chaser had just integrated with Exact two weeks before the news came out. The story of where David had come from, from Deloitte to backing himself and starting his own business, really inspired me. When the dust settled, we arranged to meet up again and we discussed the vision of Chaser and my own personal goals. Before long we felt me joining the team to head up accounting partner channel sales was the perfect decision for both parties.
The challenges of changing corporate for startup
With every new job comes the time where you have to find your feet and a different way of working than what you were used to. To add even more weight, I was moving from over 13 years in the corporate world to a fast-growing startup. Instead of having that one primary job, you're now involved in every area of the company, sharing insight and making key decisions that in my previous roles usually went through three levels of management before they were signed off.
Coming into Chaser really helped solidify some of the thoughts that were going through my head. Seeing how rapidly things inside Chaser moved, and the success that helped bring them, really helped reaffirm that accounting firms taking a similar approach are going to be the ones dominating the market. Not just in the coming years, but the coming months.
The role I was hired for was to build a new proposition for partners - the accountants and bookkeepers we work closely in partnership with. So what does a partner look for? A good price point, staff education, and a compelling added-value offering for clients. Chaser had an existing partner programme but adding my knowledge of the market to the team helped us rebuild the programme to deliver even more value to partners.
A little helping hand to get started
But starting at Chaser wasn't all plain sailing. The big shift from the corporate world and everything that goes with it made me a bit of a fish out of water. Two of my earliest contacts starting at Chaser which really helped ease the transition for me were Andrew Collings and Ian Phillips of Xero.
Andrew gave me a great overview of the key role that Xero plays within the ecosystem, and was very forthcoming with an "open door" policy if I ever required any feedback. Ian gave me his insights into the market through a different set of eyes, which also helped me craft Chaser's partner proposition into the best value offering it could be.
But it wasn't just these two friendly and welcoming guys helping my shift into the app partner world. They also made me reflect on the role Xero as a whole has had on the space. We here at Chaser owe a great deal of our success to date to Xero's education of the market. I think it's fair to say that the migration to cloud accounting and the growth of app partners wouldn't be achievable if it wasn't for Xero pushing the boundaries of adoption to cloud accounting.
The key learnings I've made
The biggest learning for me has been the role that cloud computing applications play for rapidly growing businesses. Coming from a background of bespoke internal software systems built for a high volume of staff, I had the transitional change to a business that relies heavily on cloud computing to help innovate and automate parts of specific business processes. There are some amazing applications out there and they have made my life so much easier: Capsule, Evernote, appear.in, and Slack messaging to name a few.
One learning that became very apparent in my early days was the true value an app can bring to a business. I always felt I had a good understanding of apps in the marketplace, however I wouldn't have been able to talk you through the true impact they have for businesses. Chaser has given me the ability to tell that story but also have first hand experience myself of the role they play. Two of our incredible partners, A4G and Kinder Pocock, have let us tell the amazing stories of how they helped transform their clients' businesses for the better with Chaser.
One piece of advice I was given a long time before starting any new job is start planning how you are going to make your presence count before you arrive. I made it my first goal to spend individual time with my new team members, pick their brains and look to build that instant rapport. I then set myself clear objectives I felt were needed to make an instant and long term success. The most exciting thing about a small business is the speed that you can move, every day is different and you get the ability to play a fundamental role in the company's success.
A really great event
And that brings us to today. 120 days in and we've just wrapped up a great Accountex 2018.
Events are always a great platform to showcase your product and meet old and new faces. I have been fortunate to attend two great events to date with Chaser, with many more exciting events to come. We first had QuickBooks Connect in February, where we had the opportunity to showcase our latest integration, which gave us even more exposure in the accountants space.
Accountex came with a lot of noise and expectation and it didn't disappoint. Starting with co-hosting a well-orchestrated launch party the night before, alongside our friends at Capitalise, Receipt Bank, Practice Ignition, and Spotlight Reporting. A great time was had by all, with Alan Woods of Woods Squared walking away crowned 'The Greatest Accountant' (and with a tidy £500 cheque).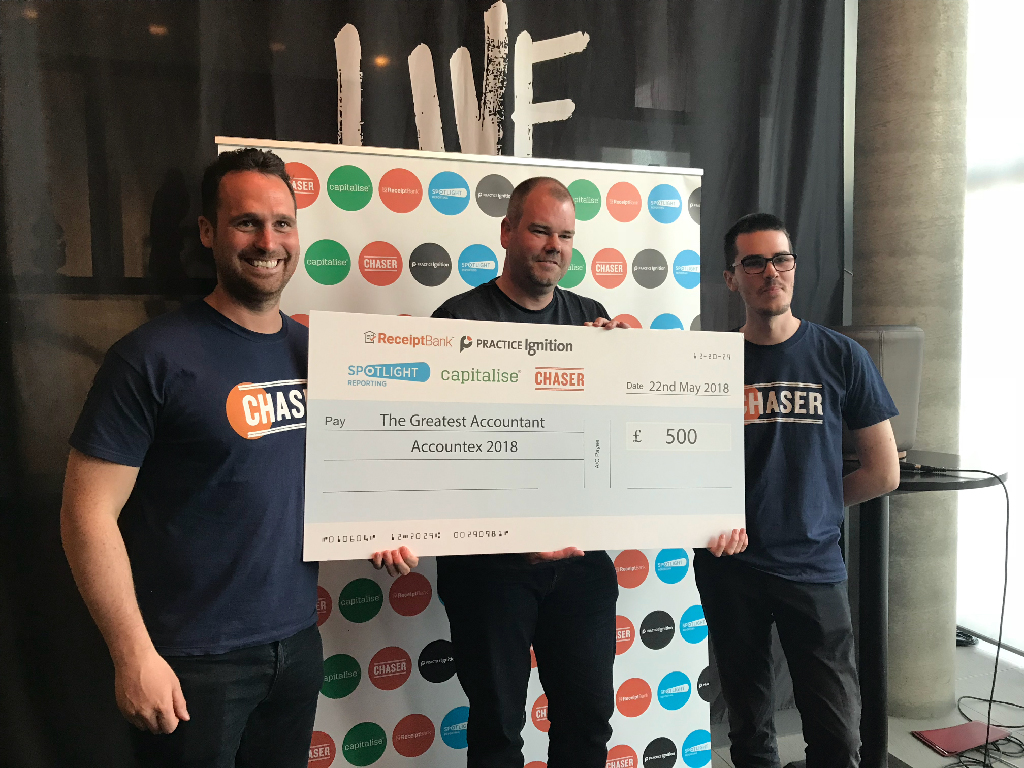 The next two days were busy and full of buzz, so many good conversations and a strong feeling that accountants are looking more and more at building out their client offering. We left Accountex as a team delighted with the two day shift we had put in and even the sore feet couldn't put a damper on it.
An incredible 120 days
120 days goes by quick, but we've made incredible strides as a team. I couldn't be happier to have joined such a hard-working and talented team here at Chaser.
I'm sure challenging times will come, however I can look back with pride on chapter one in my career at Chaser and I'm very excited to see what the future brings.
If you're an accounting partner we're not yet working with, we'd love to speak with you about how Chaser can benefit your firm and your clients. Drop us a line at partner@chaserhq.com.