Hi, I'm Pedro and I'm a Software Engineer here at Chaser. Prior to joining Chaser, I'd spent two years in a huge, international company with thousands of employees. It was everything any software engineer could ever want out of a job... or was it?
That's when I took the plunge and joined a startup.
There's something about working for a startup that you just can't get anywhere else. It means being able to directly, and significantly, make an impact on the business. It means working with people who become more like family than co-workers. It means doing something new and novel that no one else has done before. And for me as a remote worker, it also means freedom and flexibility I've never experienced anywhere else.
Life as a remote software engineer
Although we're headquartered in London, I usually contribute to Chaser remotely from my hometown of Porto in Portugal.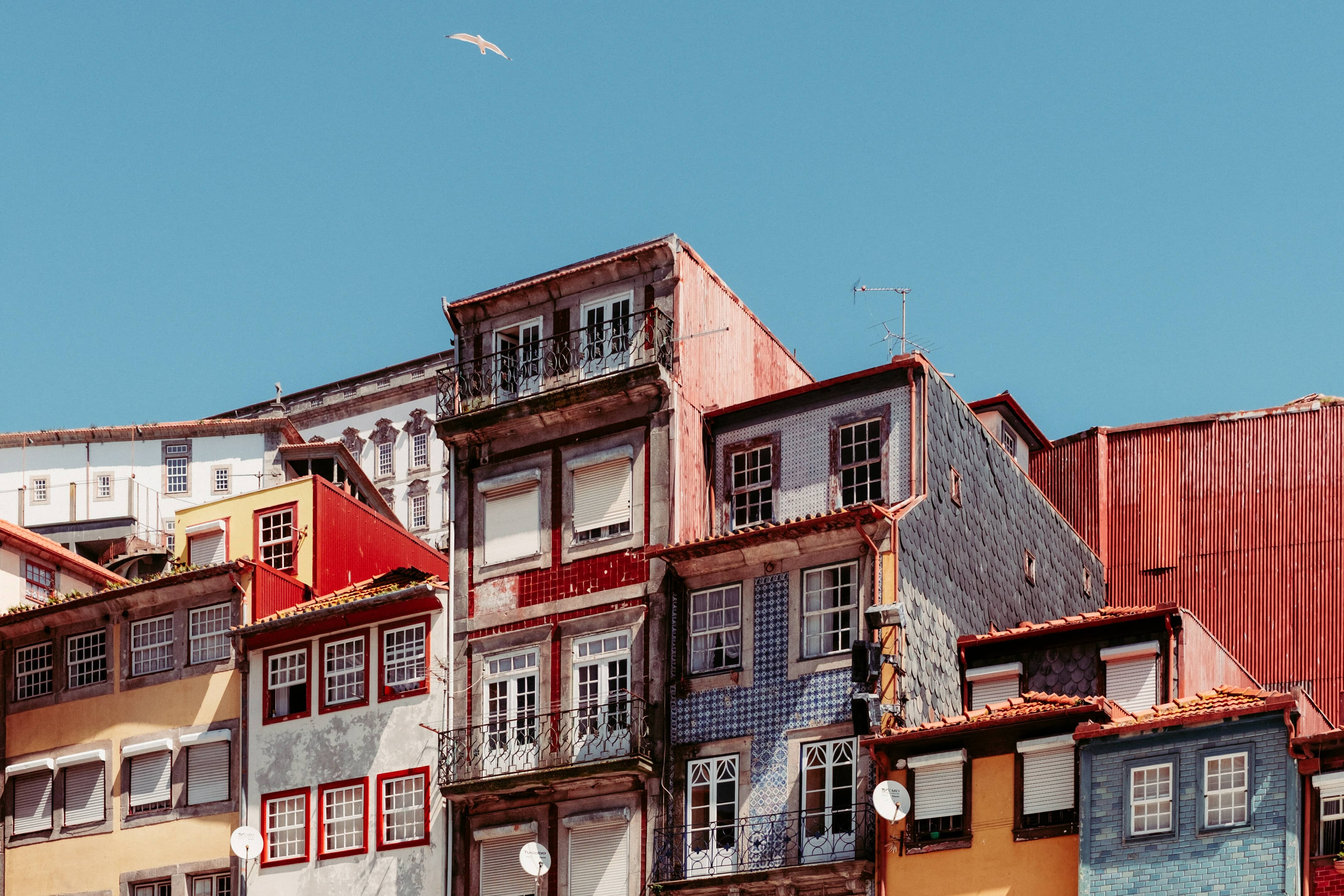 Porto (Photo by Samuel Zeller on Unsplash)
Chaser does an amazing job of fostering a great workplace culture for all of the team, whether office-based or remote. Daily standup calls, jokes and banter, meetings, chats, catch ups, and team lunches all fill the week, keeping us frequently in touch. But as a remote worker, Chaser also offers me the flexibility to work from wherever I choose. As a big fan of travelling, I've taken advantage of this and worked all across Europe in my year and half at the company. From bars in Budapest, to quaint little towns in Spain, and even from the Portuguese island Madeira.
But after 24 years of life never spent beyond Europe, I got the urge to travel bigger and bolder than I had before...
When the travel bug bites, it bites hard
All it took was a five minute chat with our lead engineer to give him the heads up and it was settled. I was off to the US for two weeks. But it wasn't enough for me to just stop there. Instead of going back home, I decided to keep heading west until I happened to reach home again… whenever that might be.
With three incredible months now behind me, and memories I'll cherish for a lifetime, I can't help but share my five biggest lessons learned from it all. For you other software engineers out there considering remote work, take note of these.
1. It's never boring (unless you let it be)
You can work in the coolest office in the world but if you're there five days a week, 40-something weeks of the year, the charm wears off eventually. As a remote worker you can change your environment literally whenever you want. From my experience, get comfortable with travelling solo - that's how you'll make the most of it. From a beach house in Hawaii to a bookstore in Kyoto, every week I had a different "office" to work from, keeping me energised and creative.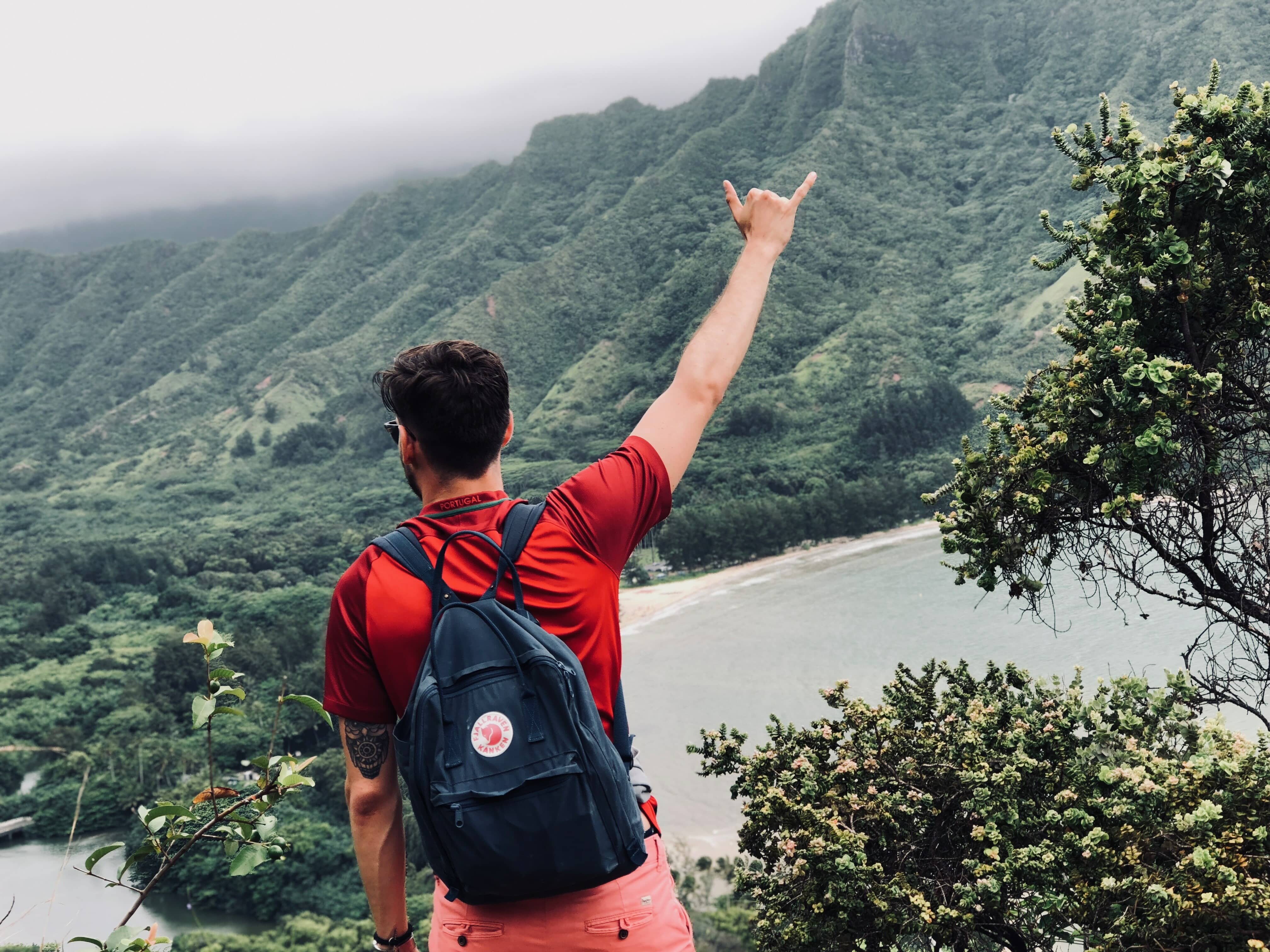 Hello, Oahu!
2. You need to adapt fast (to new environments)
With the amount of travel I've been doing, sometimes only being in a city for a few days, I've often found myself in situations where work beckons before I get the chance to settle in. Such is the nature of an unstructured, rapidly-changing trip! Having a reliable, comfortable space to work in won't always be the case. You need to be ready to quickly locate and adapt to ad hoc places to work, such as cafes or libraries. And always have a backup plan in place in case they close when you're still in the middle of your work "day"!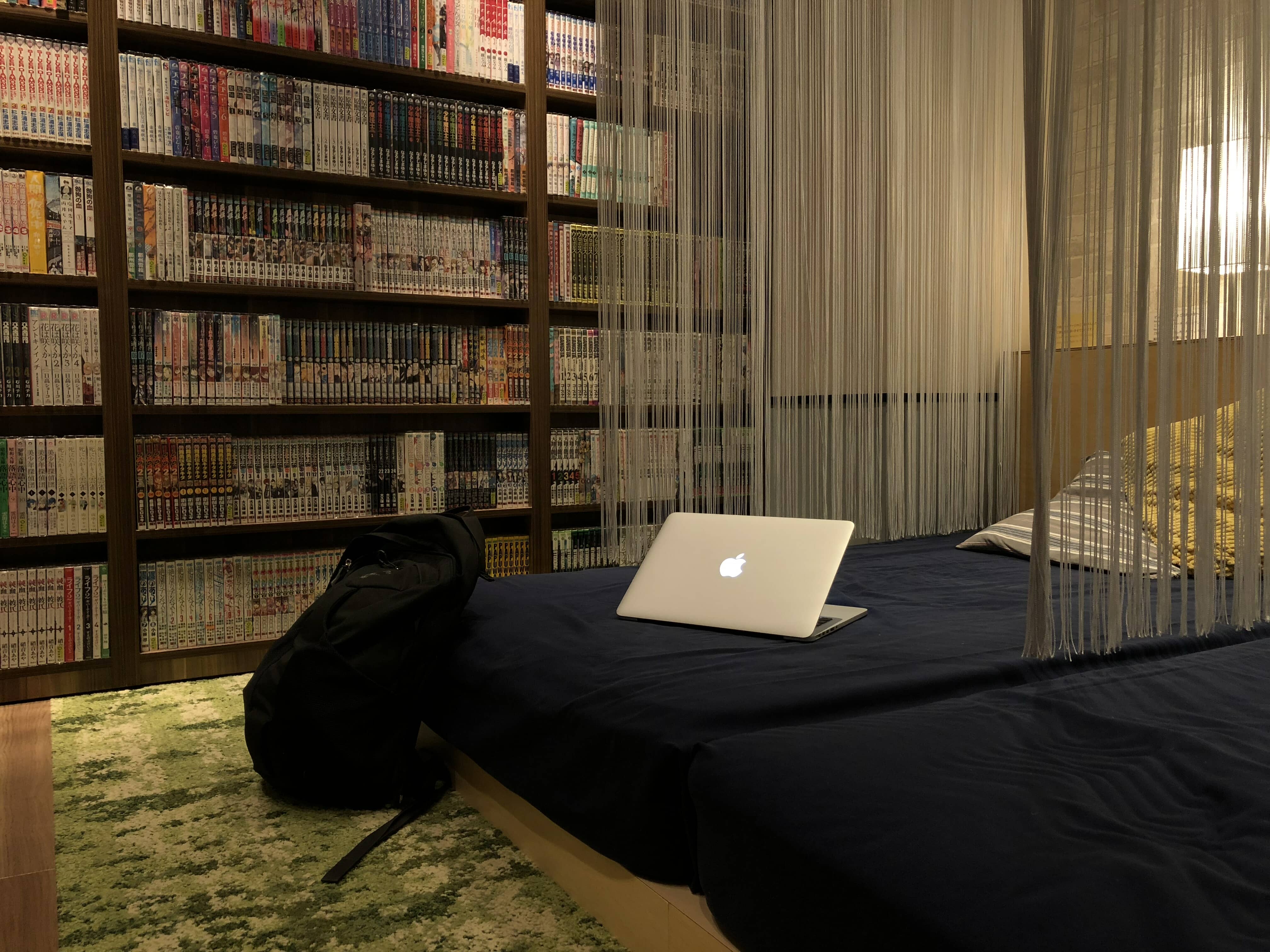 Wall-to-wall comics? A bed? Doesn't matter, still a work space!
3. Communicating isn't any harder...
This one seems straightforward but I think it deserves to be highlighted, as it's not always obvious right away. Being on literally the other side of the world doesn't make any difference to the way I interact with the team. With tools like Slack and appear.in being the basis of our communication, all I need is a solid internet connection and I can work the same no matter where I am.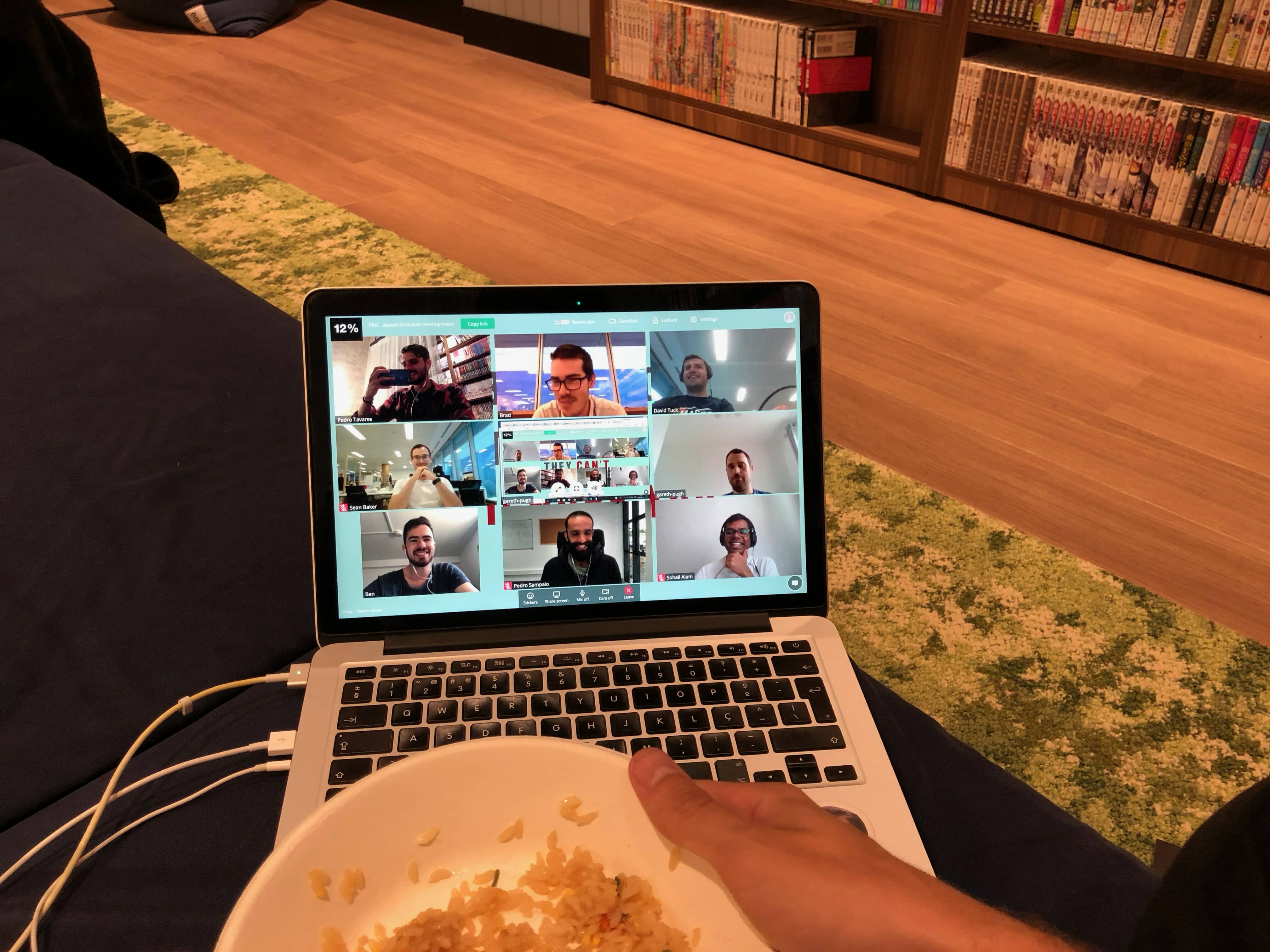 Friday team lunch (well, dinner time in Japan) on appear.in
4. ...but some timezones are challenging
At Chaser, we put a big focus on teamwork and communication, and this reflects in our successes. A lot of the best teamwork and communication is facilitated by working at the same time. This means your work "day" can become drastically shifted the further you travel as a remote worker. Here in Japan, our 09:30 daily standup becomes 17:30 for me. I've actually grown to like this schedule a lot. However, hopping on the standup call at 01:30 during my time in California wasn't as pleasant…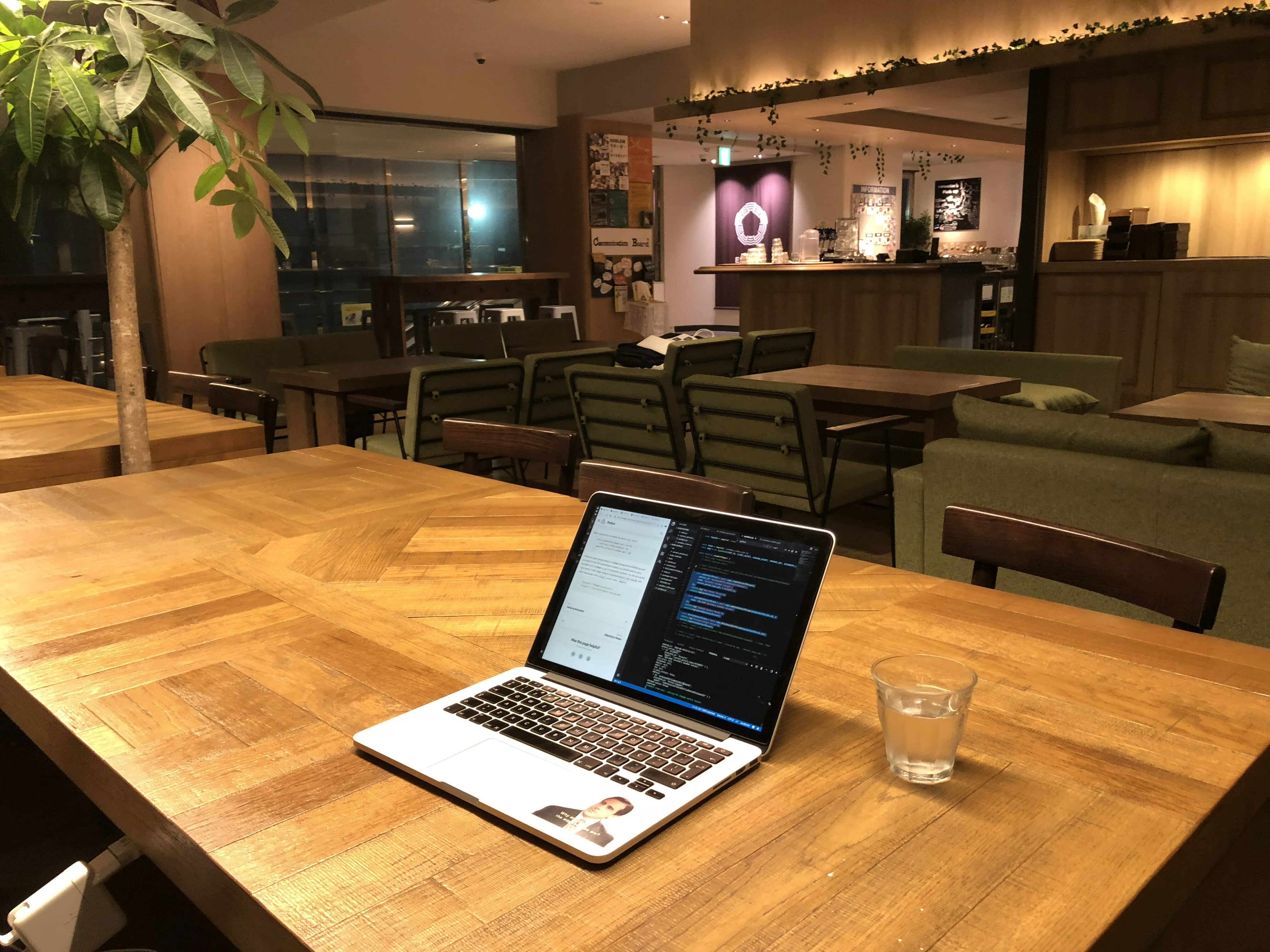 11pm in Tokyo with some soothing rain in the background - surprisingly productive!
5. After-work hours are way more fun
In a regular office job, often the end of the work day leaves you with just a commute, cooking dinner, and maybe some Netflix before you go to bed. As a remote worker, when you're travelling, any time outside of work is holiday time! It's quite unreal in one week being able to go see a comedy show at the Comedy Store in LA, then the next week scuba dive with turtles in Oahu after work.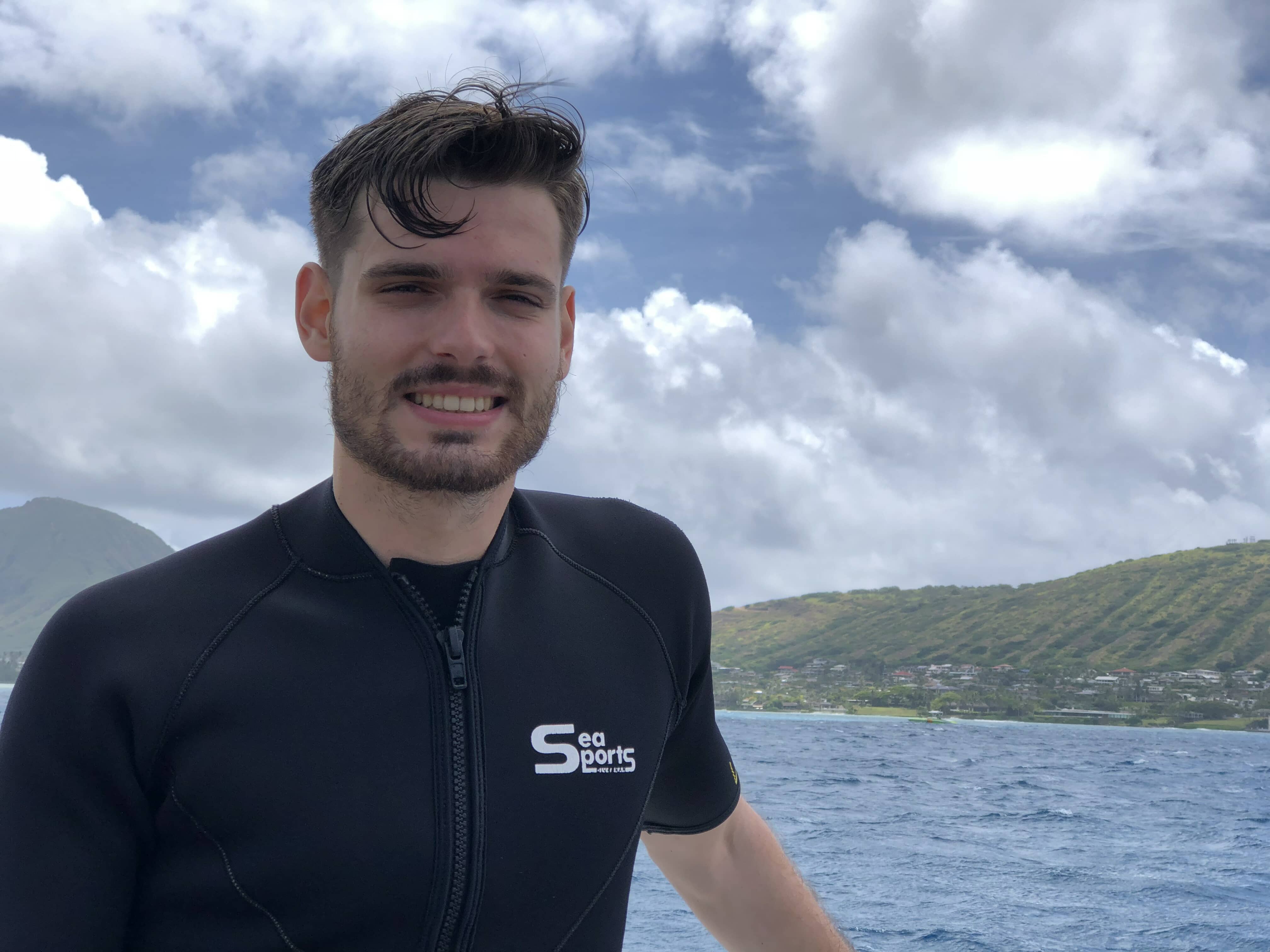 Where else can you go for a casual swim with turtles after work?
Give it a try
I love remote work, and I can't recommend it strongly enough to anyone considering it. As someone who had never left Europe before, this trip was incredibly enriching. Not just from a personal standpoint, but also a professional standpoint. Home is calling now but it won't be long before I hop on a plane to go somewhere far and exotic again. And I'm so grateful that Chaser gives me the freedom to do that.
Oh, did I mention we're hiring?
Check out our job listings here. We'd love to hear from you.
---
Header image modified from photo courtesy of Gus Ruballo via Unsplash.