Everyone's feeling app fatigue
It might not have been the hottest accounting topic of 2018 (oh hello, MTD), but last year saw repeated coverage of accounting "app fatigue".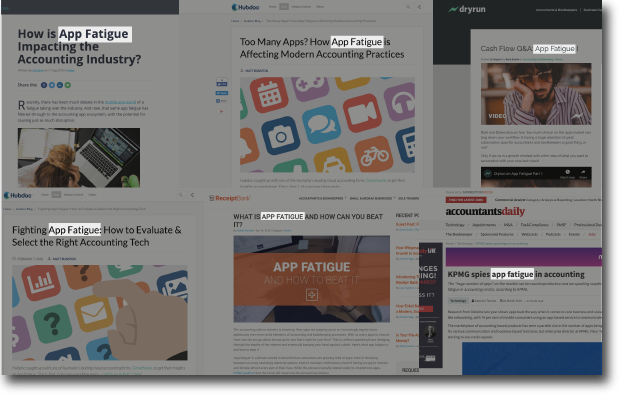 App fatigue: The feeling of being overwhelmed by the pace at which the accounting app market is growing, because you recognise the risk of not keeping up. Anderson Anderson Brown's Hilary Dyson (Cloud Accounting Senior Manager) is keenly aware of the risk, saying "More and more of the value accountants would traditionally bring businesses is now coming from software. For us to stay relevant going forward, app advisory is key."
In recent conversations I've had with accountants, bookkeepers, app partners, and cloud integrators, the presence of app fatigue is still being felt. And keeping on top of the ever-growing app market is among the key challenges they're facing as they enter 2019. It's not surprising:
Xero's research has shown that SMBs leveraging cloud apps grow their net profitability 30% faster than those that don't, and
Their accounting partners who actively work with apps grow their revenue by up to 60%1,

BUT
Xero's app marketplace has grown at a staggering average rate of nearly 100 new apps per year since 2013 (And to help visualise how truly massive that is,

we built a graphic.)
We've crowdsourced the best tips on how to keep up
And as cheesy as it sounds, first off take a deep breath and relax. You're not alone. Everyone from one-man-bands to top-tier firms struggle with keeping on top of the accounting app market effectively. We've crowdsourced advice from around the industry and collated it into a step-by-step process you can follow. For those who are struggling to get started, or feel their current approach is too chaotic, the below processes are great starts from which you can (and should) tweak over time to best suit you and your firm.
For newcomers to the accounting app market...
Step 1) Define the functional needs of your firm and clients
Start with the services you offer your clients. Map out the workflows your firm currently employs to be able to offer these services. Receipt Bank's Isobel Moulder lists a few questions to help get you going on this in her own post on app fatigue here. Be sure to cover:
The

goals

that need to be achieved
The

tasks

involved in each process, to achieve those goals
The

people

involved in each task
The

information

involved in each task
Then perform a stocktake on your existing tech stack. Note which software you currently use and at which points throughout the workflows.
Step 2) Focus on inefficiencies to create priorities
Examine the workflows and identify any inefficiencies or redundancies. Assign resource and time costs to these to determine the highest priority areas to address. Be careful not to ignore the impact on your clients - there may be lower priority areas to address for your firm that have disproportionately stronger impacts on your clients.
Step 3) Start with the app marketplace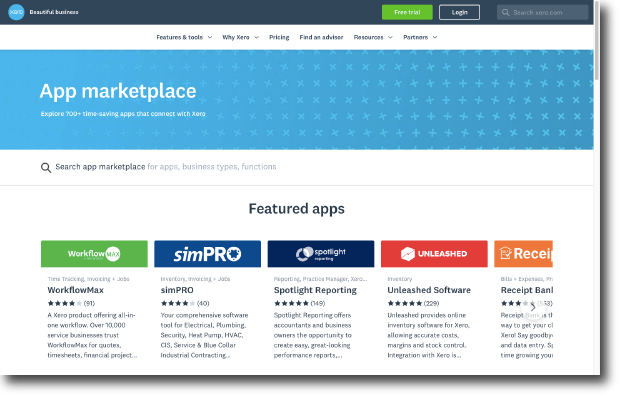 Jonathan Fox, of expert Xero app advisors Foxability, recommends this as the core source of truth for your app hunting. "Any Xero-integrated app you'll use will be listed here, and every single one goes through a formal review process and acceptance by the Xero team before being certified and published," he says.
Armed with the highest priority areas you want to address, you can check out what Xero has on offer to address them either by function or by business type.
Step 4) Refine your shortlist
Demoing and trialing various apps to decide which is best for your firm and clients can be time consuming. Leverage what people like you have already learned. "A common view I still see being held is that every firm is a competitor to your own," says Hilary Dyson, "But that's just not true. Networking with accountants from other firms is one of the best channels for learning you could have."
Outside of speaking with a network of peers in other firms for advice and recommendations, you can also leverage the learnings of others via:
App user ratings

- To gauge relative numbers of satisfied users between similar apps (Xero's highest rated apps can be found

here)
App user reviews

- Both on the marketplace (e.g.

our review page here) and external review sites (GetApp

and

Capterra

are two major ones)
Online articles & social media

- Cloud-savvy accountants* readily share their learnings and successes with the apps they use on their blogs and social media accounts (but even if they don't, you can often go to a firm's website footer and look for their app partner badges to gauge what they use)
(*App vendors often do something similar. Float, for example, do round ups of the top apps throughout the year.)
In an interview with Hubdoc, Beau Gaudron of one of Australia's leading cloud firms Growthwise recommends whittling your shortlist down to 3 competing apps per problem area, to take through to trial. This will allow you to see and feel enough variety in the software solutions available to you, without being bogged down in evaluation.
Step 5) Judge + select
To turn your shortlist into the final app to proceed with for you and your clients, start by looking at the features page and demo video of each app, to ensure they're functionally the right fit for your processes.
Depending on your personal preference, either line up a call with someone from the app's team to get your in-depth questions answered, or dive right in with a free trial and see for yourself.
In the same interview with Beau Gaudron, Hubdoc's Matt Bunston recommends not only measuring the results from trialling each app, but also tracking the time it took to achieve them. These, alongside:
Smoothness of the app's onboarding
Support from the app's team in both helping you achieve success with the app + solving any problems you encountered, and
The frequency and "meatiness" of updates to the app
… should be compared for competing apps you're considering. Hubdoc even provide a PDF checklist template here to help. Ensure the decision is made not solely by a strategic decision maker, but including the feedback from those on the frontline of your firm who'll be using the app on a regular basis.
For veterans of the accounting app market...
Step 1) Accept the reality
Whether it frustrates you or brings on a sigh of relief, no firm can realistically stay on top of the entire accounting app market. Jonathan Fox says "There are more than 700 apps on Xero's marketplace now. 700! No one can keep on top of that. Even if you try, your knowledge would be out of date before you even finish."
The harm from the time cost of learning the ins and outs of those 700+ apps far outweighs the benefit of that breadth of knowledge. Fortunately, there are a few things your firm can do to give it its best fighting chance.
Step 2) Explicitly nominate a cloud champion
For a number of you reading this, you'll be the nominated cloud champion at your firm. For smaller firms however, it's quite possible there isn't an explicitly named cloud champion. And that driving innovation with cloud apps is something everyone contributes to. While this may be a necessity at extremely small team sizes, there should still be ultimately one responsible party for this. Otherwise things will fall through the cracks.
Step 3) Schedule 3 reviews in your calendar
Many firms approach the problem of keeping on top of the accounting app market from the wrong angle. So says Matt Flanagan of Xero-specialist software consultants BlueHub:
"Before worrying about keeping on top of the app market, firms need to worry about their clients' business problems. No one wants an app for app's sake. Firms need to build in a process to regularly discover and discuss these problems with their clients, then look for apps that can solve them."
Jonathan Fox adds to this with a tip of his own - every time you speak with a client, check Xero HQ in advance to see if they're using any new apps you weren't aware of. "That's a handy prompt to go research that app and that area," he says.
But that's not to say you should be wilfully ignorant of the ever-growing, ever-changing accounting app landscape. Beau Gaudron notes that his team at Growthwise undertakes both monthly app research and annual audits of their technology stack.
Schedule these 3 reviews in your calendar to keep up without spending too much time:
Before every client chat

- Check Xero HQ to uncover any new apps you need to research
Every month

- Review the app market for new releases and updates to existing apps
Every year

- Undertake a complete audit of your app stack (The above section 'For newcomers to the accounting app market...' is a good place to start)
Step 4) Use these resources
When it comes to undertaking monthly or any ad hoc app research, there are three key resource areas at your disposal.
Content
Xero's app marketplace

(link) - Your core source of truth for Xero-integrating apps
Xero's blog

(link) - Xero also regularly highlight noteworthy apps in posts on their blog
XU magazine

(link) - The go-to independent (and FREE) publication for the Xero-sphere, with dedicated sections to both new apps and updates to existing apps
Xero HQ

(link) - To keep an eye on which apps and areas are of interest to your clients
Industry newsletters

- Numerous accounting thought leaders and app vendors publish regular email newsletters, including changes to the app landscape (two common recommendations are

Heather Smith's

and

Karbon's)
App user reviews

(Xero community,

GetApp,

Capterra) - Numerical ratings allow you to quickly gauge which apps are worth looking at, and written reviews give you insight into which features users have found most useful, as well as the

actual

benefit they've seen from implementing the app
App vendor websites

- App vendors will often write about updates to their product on their blog or in other educational materials on their website
Events
Xerocon

(2018 link) - Offering keynotes and breakout sessions from industry leaders, dozens of app vendors, and thousands of your peers under one roof, attending Xerocon is one of the biggest learning opportunities of the year for the accounting profession
Accountex

(link) - 200+ seminars, 7,500+ industry peers, and 100s of products and services on display makes for the biggest non-vendor-specific accounting conference in the UK, and offers a huge learning opportunity
Other firms' roadshows

- If you take Hilary's advice onboard and stop seeing other firms as competitors, start attending their own events to learn from their experiences firsthand
Network
Cloud champions in other firms

- Perhaps an obvious one at this point, but these are the people trying to achieve the same outcome as you - sharing learnings makes the job easier for everyone
Twitter & LinkedIn

- Fill your feeds with other successful firms, industry thought leaders, and app vendors - this is often mentioned as one of the top ways of discovering valuable industry insights, as well as building relationships
Facebook & LinkedIn groups

- Although sometimes credited as hit-and-miss, it can be worth joining several of these and checking in on them once a month - for any that don't provide you value, you can leave
App advisors & cloud integrators

(Foxability,

BlueHub) - These people make their livelihood off being app specialists, so their knowledge of the app market is almost second to none
A process is all you need
Keeping up with the ever-growing app market can seem an insurmountable objective. But armed with the advice we've crowdsourced into this post, it's not. It will take time to get the process in place and tweak it to best suit your firm. But if you stick to the approach of processising and optimising, you'll keep on top of the app market, rid your firm of app fatigue, and deliver your clients great results.
---
Want to see inside the app stack of one of the UK's fastest-growing firms? A few months ago we spoke to Steven Kühn, Head of Software Solutions at Baldwins Accountants, to get a peek behind the scenes at theirs. Read the interview here.
---
Header image modified from photo courtesy of Chris Lawton via Unsplash.