Last night was the AccountingWEB Software Excellence Awards here in London. As part of AccountingWEB's Practice Excellence Week, the Software Excellence Awards are a showcase of the best technology in the accounting profession. A culmination of thousands of user surveys placed Chaser as a finalist in the Cloud App category, alongside GoCardless, iZettle, and Stripe.
I'm thrilled to be able to say that we won!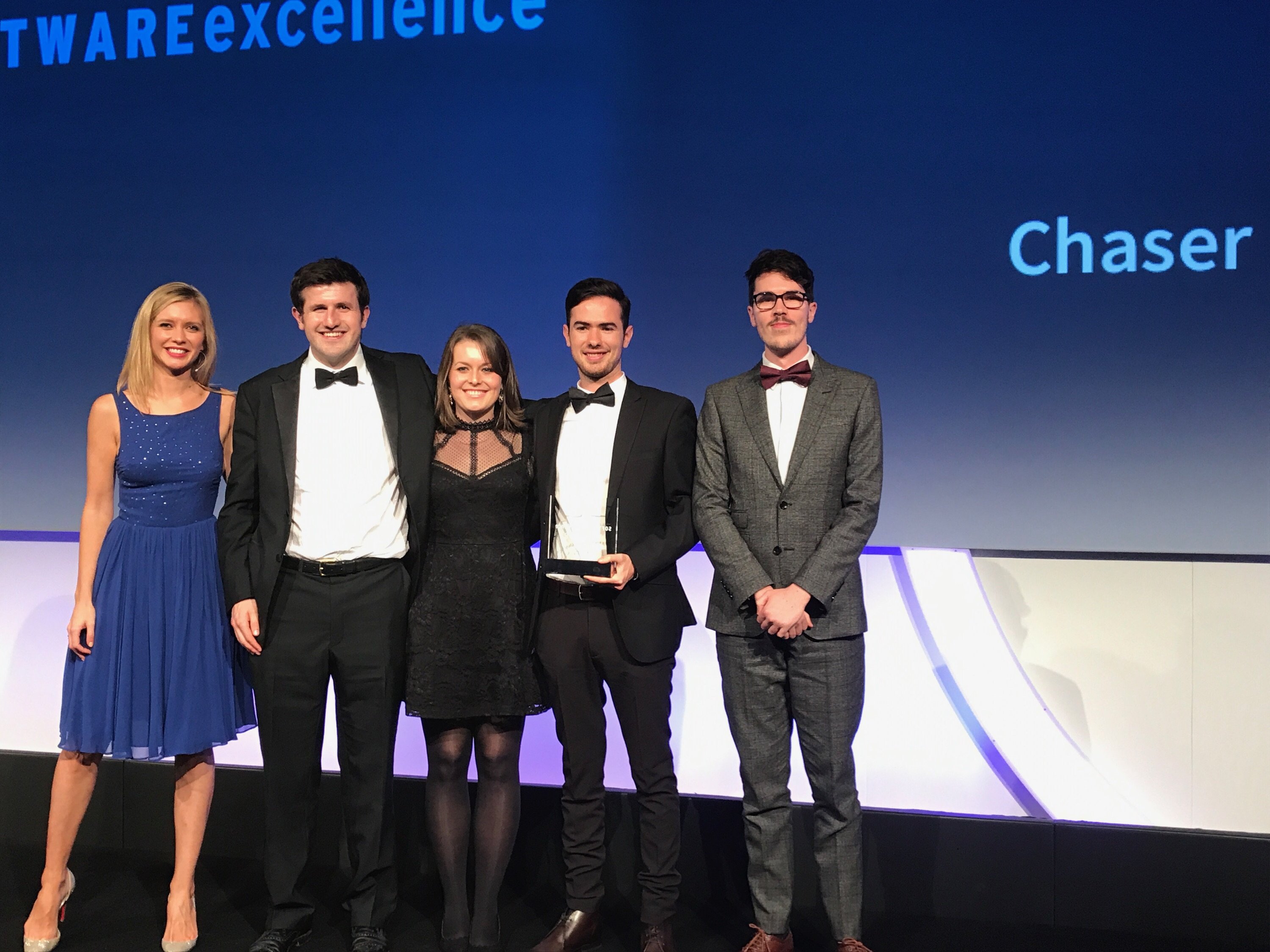 In their own words, AccountingWEB has been mapping the accounting software landscape in fine detail for many years. To be recognised with an award by such a highly-regarded industry authority is a real honour.
I have to start with a huge thank you to our amazing customer base. We couldn't be happier to know that Chaser has had such a positive impact on so many of you. And we couldn't be more grateful to you for generously taking the time to nominate us. Without your support along this exciting journey, Chaser wouldn't be the company or the product it is today.
To be recognised with the 2017 Software Excellence Award for Cloud App in the company of GoCardless, iZettle, and Stripe is a huge honour. All of them are fantastic products in their fields - incredible companies doing incredible things. To be given the gold against such giants really puts things in perspective, and makes me reflect on what Chaser has achieved so far.
At Chaser we've always made it our mission to provide the best-in-class solution for cloud credit control software. Coming from a career as an accountant and a finance director, I've long known credit control was an essential business process - I just couldn't believe how painful it could be to carry out! But I knew it didn't have to remain that way.
In the early days of Chaser, that meant pioneering multi functionality and chasing history. More recently we've innovated with ChaseFeed, a Facebook-style newsfeed for credit control, and we're enormously excited to continue innovating through Q4 2017 and beyond.
Perhaps the most exciting thing to see come out of this win is the recognition of cloud credit control software as a category in and of itself. It's no longer just an experimental area a business can opt into for a competitive advantage - it's become table stakes for finance teams worldwide. Sales teams have had great cloud CRMs for over a decade. Now finance teams can join them. And I'm proud to be part of that driving force, with the support of an incredible team and amazing customers.
As long and as fruitful of a journey it's been so far, in many ways today is day one. Day one of the era of cloud credit control software. I cannot wait to see the landscape on day 10, day 100, day 1,000, and beyond.
We need your help in shaping that journey. Your feedback has been, and always will be, the most important component in the fuel that drives Chaser's development. I always keep an open line directly inviting feedback at david.tuck@chaserhq.com. Where would you like to see Chaser go next? Please drop me an email anytime. I'd love to hear from you.
Thanks again for all of your support and happy continued chasing!
David Tuck
Founder & CEO
Enjoyed this post?
Go on, give it a share on social media and spread the knowledge love.

Share on Twitter
Share on Facebook
Share on LinkedIn
Want more?
The Chaser blog brings you practical advice on how to achieve amazing credit control and run an elite finance function. Sign up below so you don't miss out on essential content straight to your inbox.