At a glance
UHY Hacker Young is a

Top 15 Group

of UK Chartered Accountants
Their outsourced credit control offering was being

limited by manual processes

such as exporting spreadsheets and adding comments, to send to clients
With Chaser they've been able to rapidly reduce clients' debtor days to the effect of

more than 20%

(with the trend continuing), and turn their reactive credit control processes

proactive
Meet a Top 15 National Group of Chartered Accountants
UHY Hacker Young (or UHY for short) is a Top 15 Group of UK Chartered Accountants with 22 offices and 600+ staff nationwide. Turning over a revenue of more than £58 million last year, they're a formidable force in the industry.

Marie Pegram is a Partner at UHY and their Recruitment Industry Sector Specialist, covering Letchworth, Royston, and Cambridge. Her beginnings in recruitment planted seeds for what has grown into an impressive accounting career. She's played a key role in leading and developing UHY's recruitment specialist division - from just 3 clients to more than 80 today.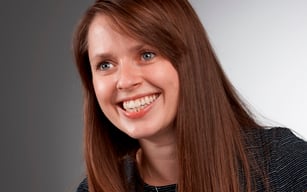 In offering an outsourced finance function to clients, Marie chalks UHY's success up to three core elements:
A deep empathy for their clients, with a core focus on adding value and making their lives as easy as possible
Specialised industry-specific focuses
Bespoke app offerings, assessed on an individual client basis
Pioneering the firm's adoption of Chaser, I spoke with Marie about UHY's outsourced credit control transformation.
Manual = Annoying
Marie is keenly aware of how valuable her clients find UHY's outsourced finance function offering.
"These are people who recognise the value of a fantastic finance function but don't quite have the internal resource to carry it out. That's a great opportunity for us to help, but we hold ourselves to high standards. We want to deliver incredible results in every area - credit control included."
Despite her and her team's extensive experience conducting credit control, their tools and processes were limiting. Marie shared her frustrations with the firm's previous, more traditional credit control methods. Notably, the manual exporting of spreadsheets and addition of comments, before emailing to each client.
"It cost us a lot of time, which was really frustrating. And it made reporting to [our clients] slower than we needed. Naturally, we always strive to make the best use of our time for our clients. And manual credit control was just no longer the best we could be doing."
As a firm that prides itself on its high-quality, professional service, UHY is always looking for opportunities to innovate, to deliver better results faster. And Marie knew the firm's outsourced credit control offering was due for a technological overhaul.
"For most of our clients, we spend an average 2 hours per week conducting credit control. They want the best bang for their buck, and so do we. Our old, manual processes no longer cut it. We needed something new."
Enter Chaser
It's 2017 and Marie enters Xerocon London with a purpose. Having perused the app vendor lineup in advance in search of a credit control solution, she visits a few stands. Discussing the finer details of the products available in the market, Marie ends up leaving Xerocon with the final candidates for inclusion in UHY's app stack.
"I was really impressed with the pitch from [Chaser's Founder and CEO] David. But of course I had to do my due diligence. I followed up with a couple of apps post-Xerocon. But the partnership offerings and support from the others were, let's say, less than impressive. Chaser was the one that really stood out."
The One Thing Clients Go Crazy About
Before long, Marie had taken out a free trial of Chaser to explore the ins and outs of the product.
"Setting it up was a breeze. The onboarding process was great, and the product does exactly what it promises to. I was really excited about the upgrade this could provide to our outsourced credit control."
But it wasn't all plain sailing. There was one final hurdle Marie and her team had to clear - client expectations.
"Bringing on Chaser was a delicate operation when we looked at it from our clients' perspective. Many of these businesses are first-timers to outsourcing. It can be an extremely nerve-wracking thing. And us overhauling our tools and processes doesn't help ease that feeling."
It was an imperative to Marie that UHY offer a stellar outsourced credit control experience via Chaser to every client from day one.
"The one thing clients go crazy about is bad credit control. And rightfully so."
Delivering World Class Credit Control
In building confidence in Chaser in her uncertain clients, Marie attributes 3 main things:
Consistency

- With Chaser, credit control is always carried out on schedule, without needing to remember to do it
Flexibility

- Chaser's customisation allows for a credit control experience that's perfectly tailored to the client's business
Transparency

- By granting their clients access to Chaser, they are able to login and review the status of the credit control function at any time, with ease
With clients convinced of the value of Chaser, Marie got them on board and rapidly saw reductions in debtor days to the effect of more than 20%.
"I was looking at one client's stats just before. Chaser's already helped reduce their debtor days from 63.7 down to 50.3. And this trend will only continue."
With Chaser now loaded up in UHY's app stack, Marie is proud to say her clients are getting hugely improved value for money when it comes to credit control. And with Chaser's ability to politely check if payment is on track before the invoice due date, Marie says the firm's outsourced credit control offering has been completely transformed from reactive to proactive.
"The 'Before Due' and 'Thanks for Paying' messages are amazing features. And with that consistency, flexibility, and transparency, Chaser really does deliver world class credit control for our clients."
Lasting Effect
With Chaser at the helm of the credit control function of UHY Hacker Young's clients, Marie reflected on the lasting effect it's had on them.
"What it comes down to is confidence. Chaser is boosting their cash flow. And it's doing it effectively, efficiently, and transparently. That gives our clients confidence."
Before Marie and I wrapped up our conversation, I asked her what she sees as Chaser's lasting effect on UHY Hacker Young.
"The time we spend on credit control is now so much more valuable. Chaser's removed all those pains we had with our previous tools and processes. And it allows us to deliver the most value-adding and professional outsourced credit control function possible to our clients."
---
Are you an accountant or bookkeeper we're not working with yet? We'd love to speak to you about how Chaser can add value to your clients, bring your firm additional revenue, and solidify client relationships. Email us at partner@chaserhq.com today.
Header image modified from photo courtesy of Anthony Esau via Unsplash.