At Chaser our focus is always on the question of "what would you do if doing this manually?". You wouldn't choose to spend undue time and energy chasing invoices with an inconsequential amount outstanding. We believe that Chaser's guiding principle of automated humanity means that it should do the same.
So our newest feature allows you to set the minimum amount that an invoice must have outstanding for it to be chased. This means that if you set this threshold to £1.00 and you have an invoice that has only £0.50 remaining to be paid, then we won't continue to chase it. We will still, of course, thank your customer on your behalf once the remainder been paid, unless you've specifically told Chaser not to do so.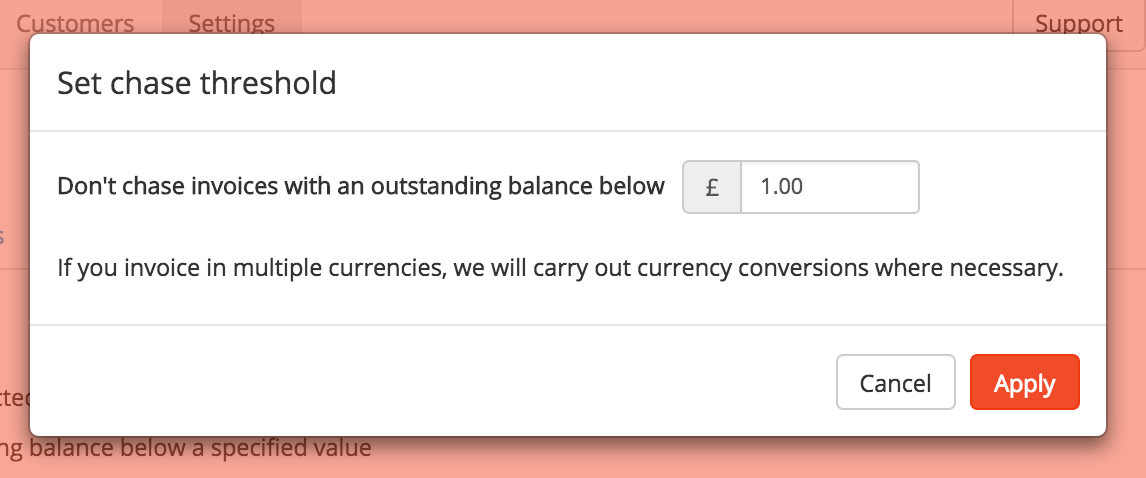 Although we used GBP in this example, this feature will work for invoices issued in any currency: we'll carry out conversion at the exchange rate stored against the invoice in Xero.
All new Chaser accounts will start with this feature enabled. Existing organisations can opt-in by navigating to Settings > General > Chasing criteria. The same page can be used to modify the threshold at any time. If you'd like more information on how threshold changes affect outstanding invoices or any other details then we've provided a new help centre article.
If you need more assistance with chasing criteria, or any of our other features, then please do get in touch with us at support@chaser.io. We'd love to hear from you!