I had an idea recently. A curiosity I wanted to scratch. After assembling amazing advice from AAB's Hilary Dyson, Foxability's Jonathan Fox, BlueHub's Matt Flanagan, and more, on how to keep on top of the ever-growing app marketplace, I wondered to myself what it actually looked like. The whole marketplace. So I charted it: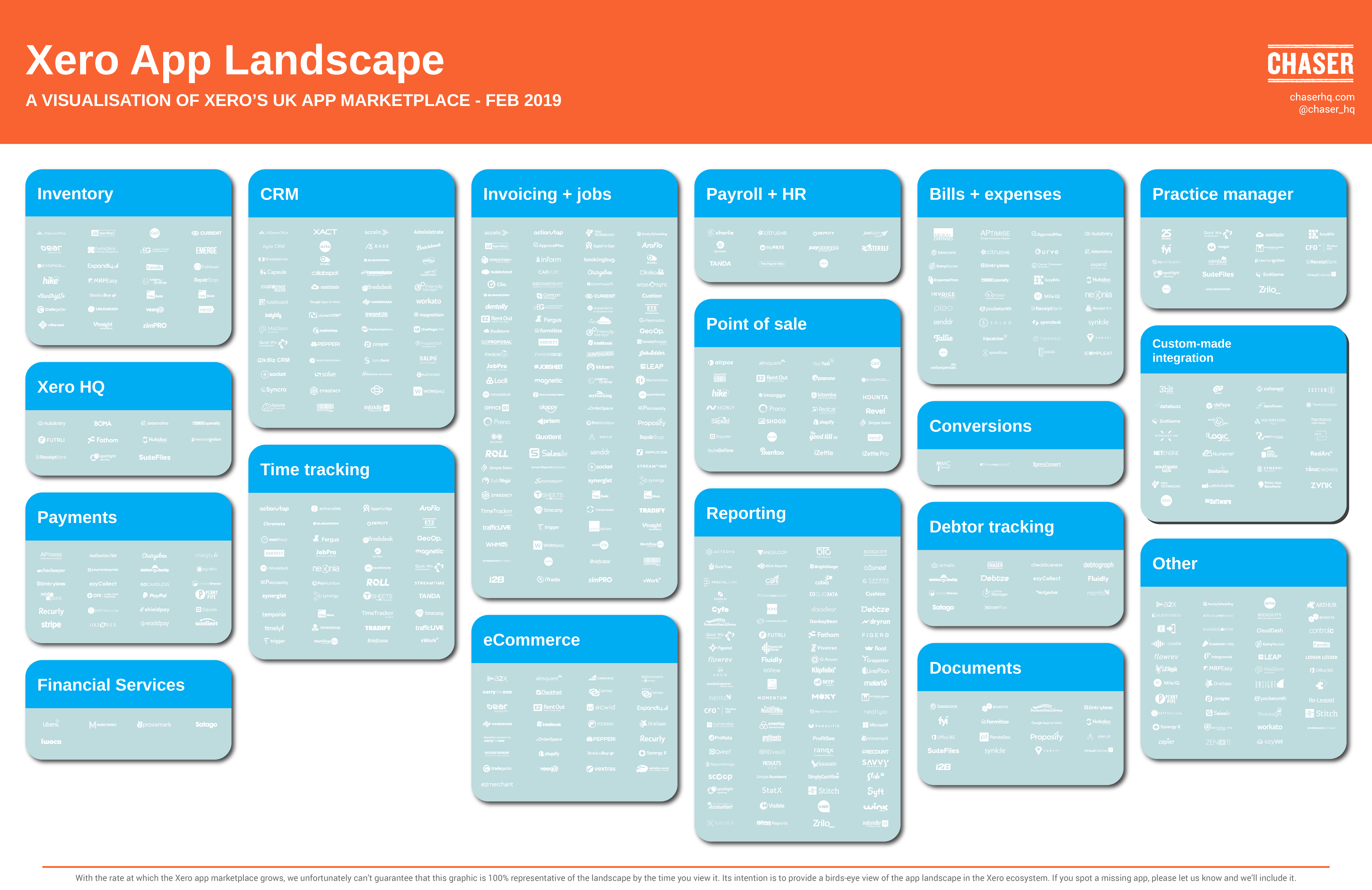 Right-click and select 'Open Image in New Tab', 'View Image', or a similar prompt to see the full size graphic
Xero's app marketplace spans 18 categories, 700+ apps, and thousands of user reviews. Do you know how much time it would take to consume that knowledge? Well, at my own reading pace, getting through the app listings alone would take just shy of 8.5 hours. That doesn't even begin to cover the time required to research each app's website, browse user reviews, and undertake a trial. But even if you wanted to undertake that journey - much like the universe we live in - Xero's app marketplace is constantly expanding. In fact, as I was finalising the design of that graphic above, there were already a handful of new apps on the scene (and although I did include them, I can't guarantee that the graphic now is 100% representative of the marketplace).
What I find interesting is that every accountant or bookkeeper I speak to only cites somewhere from three to a dozen apps when I ask them what's in their stack. And the likely reason that is can be explained by the Pareto principle - 80% of the value cloud accounting apps can bring your clients is achieved by 20% of the apps. (Perhaps it's not the perfect explanation, as we're talking about much less than 20% of the apps here. But hopefully you see my point.)
With Xero releasing their Cash flow app advisory playbook at Xerocon London 2018, some of us at the Chaser team got to chatting about how the Pareto principle approach to apps is what's driving superstar firms' winning and retention of clients. And it's this very playbook that lays out the strategy - automate client data input, get clients paid on time, and empower clients' strategic business decisions with the right reports. Through this lens, the vast Xero app marketplace can be filtered down to that (proverbial) 20% of apps that delivers clients 80% of the value: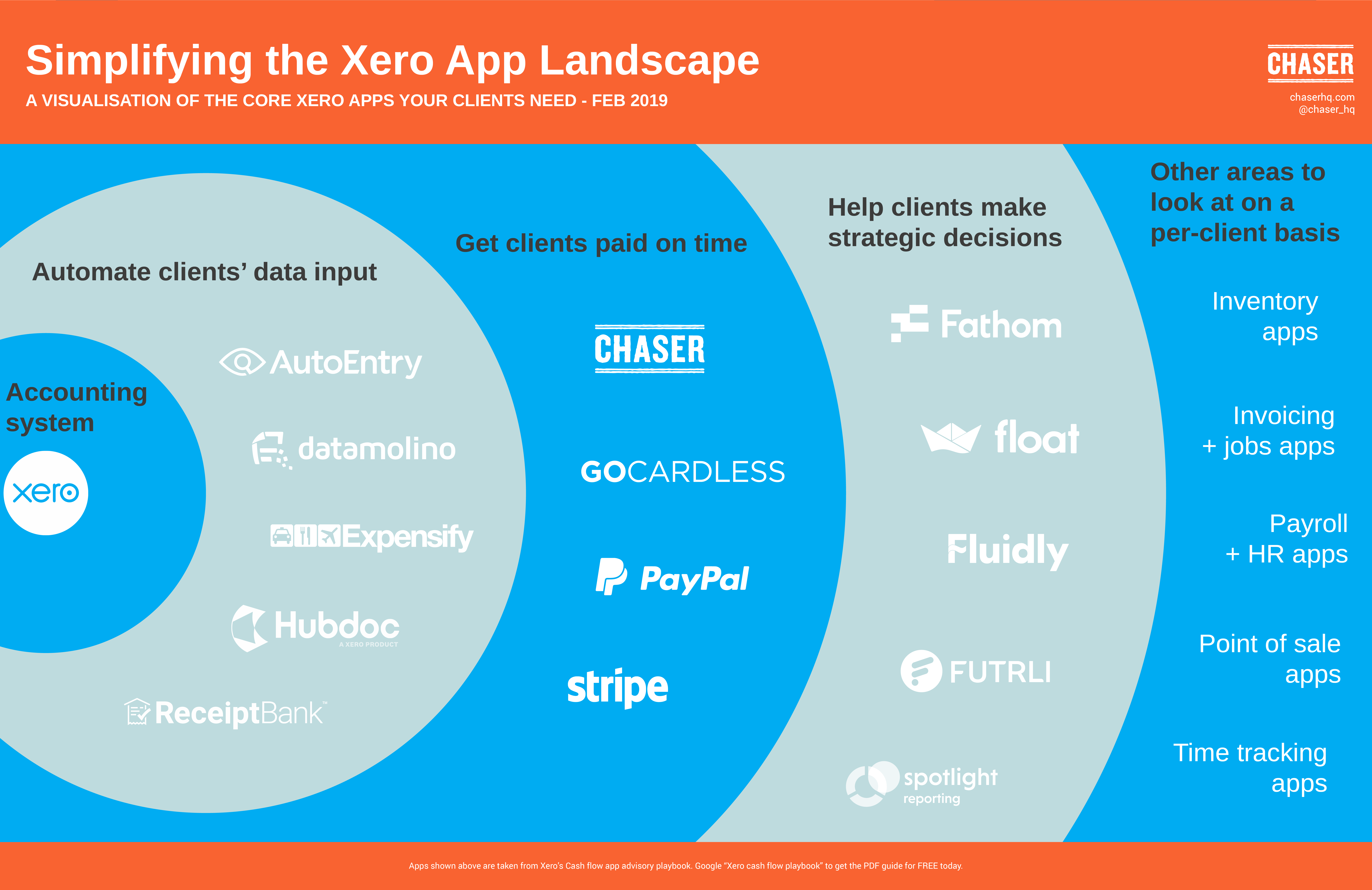 Right-click and select 'Open Image in New Tab', 'View Image', or a similar prompt to see the full size graphic
At the core of this app landscape is Xero. Concentric layers build out from this in order of importance.
Automate clients' data input
Using apps like AutoEntry, Datamolino, Expensify, Hubdoc, and Receipt Bank. It's a good idea to set these up first as they take time to "learn" and reach max processing efficiency.
Get clients paid on time
Using apps like Chaser, GoCardless, PayPal, and Stripe. If you want your clients to not only survive, but thrive, it's imperative they get cash in the bank.
Help clients make strategic decisions
Using apps like Fathom, Float, Fluidly, Futrli, and Spotlight Reporting. With your clients now getting the cash they're owed, help them take a look forward and control where their business is headed.
With this app trinity foundation in place, superstar firms are then delivering the remaining 20% of value to their clients on a per-client basis. Common areas where this value is delivered are inventory, invoicing + jobs, payroll + HR, point of sale, and time tracking. Unfortunately there are no shortcuts here to know which solutions are best for your clients. But close client relationships built on regular communication, coupled with an exploration of those categories on Xero's app marketplace, is what will unearth them.
---
Are you an accountant or bookkeeper we're not working with yet? We'd love to speak to you about how Chaser can add value to your clients, bring your firm additional revenue, and solidify client relationships. Email us at partner@chaserhq.com today.
Header image modified from photo courtesy of Nick Decorte via Unsplash.