This blog outlines the three key benefits of automated credit control, based on the experience of our users - and aims to help you decide if automation is right for your business.
We'll go into detail shortly - but in summary, this is what you can expect from automating your credit control:
Better relationships with customers
More time to focus on what matters
Improved cash flow
Automation may be a daunting concept for businesses that haven't implemented it before, and may raise a few eyebrows with some employees fearful of losing their jobs to automation!
In fact, thousands of small-medium businesses using Chaser have found automating their credit control easy - we've even seen businesses set up and chasing customers with setup times as fast as 5 minutes!
Automated credit control can work independently, or can support in-house credit controllers - see who uses automated credit control below:
Company founders, owners and sole traders use Chaser so they can focus more time on growing their business
Finance teams use Chaser to manage the business's credit control, help streamline their processes, and save time within the team
Credit controllers use Chaser to automate the repetitive parts of their role, so they can focus more time on taking care of high-value customers, planning and reporting, and chasing over the phone
1. Better Relationships with Customers
Despite automating your credit control, every invoice reminder you send to customers still looks hand-typed - only without the mistakes!
---
Don't lose the personal touch
Unlimited, editable email templates can be adapted to your business' usual communication style, with placeholders for customer-specific data and email addresses and signatures that reflect the normal sender.
No more mistakes
Often over-worked, or muddled by mundane, repetitive email chasing, even the world's best credit controller can still make mistakes chasing customers. For instance, chasing the wrong customers, typos, and forgetting to attach invoice copies and customer statements are all common credit control mishaps!
Luckily, these common mistakes can be avoided by automating! Automated credit control makes sure you're always chasing the right customers with the right messages (no typos!) - and lets you automatically attach invoice copies and customer statements to all your reminders.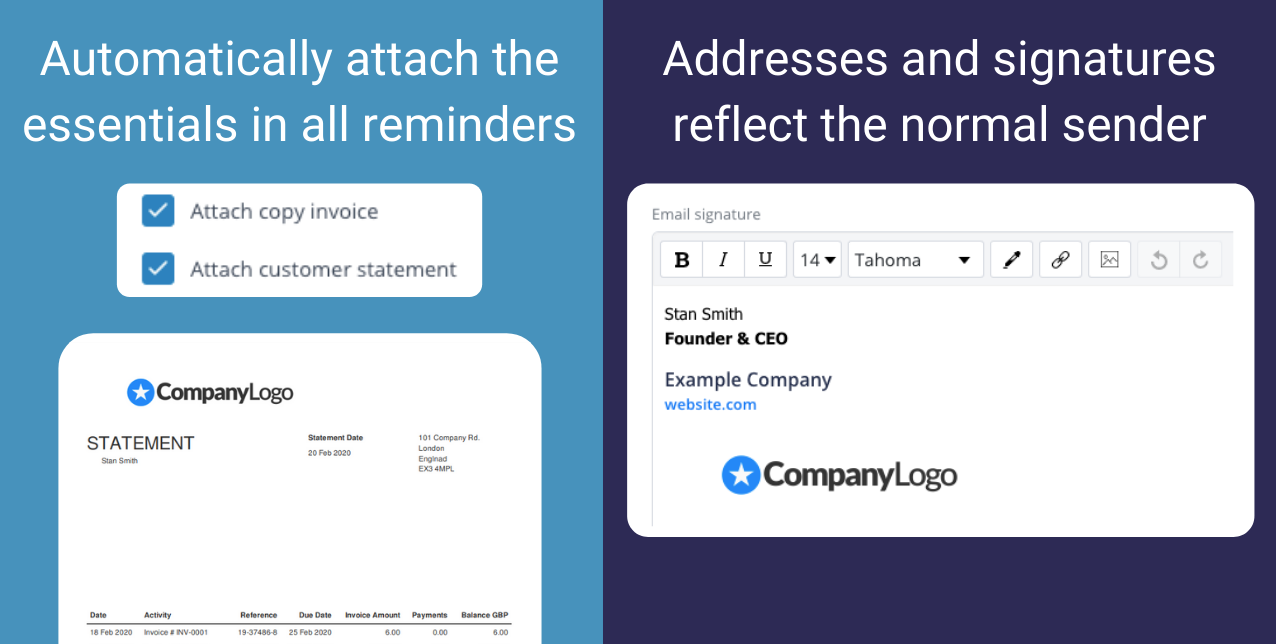 Always say thanks for paying
Automated credit control means customers always receive a personalised thanks for paying message when invoices are paid, helping you maintain great relationships with customers! Whilst it's easily forgotten, we've found this significantly improves future payment times.
2. More Time to Focus on What Matters

Don't waste time manually chasing
With automated credit control, chasing schedules and timing settings make sure customers are always automatically chased at the right time. This lets your credit controller, finance team members - or whoever's doing credit control avoid mundane manual chasing week-to-week, giving them more time to focus on what matters.
Always chase accurately
Avoid any awkward chasing situations. Timing settings mean you control when automated reminders are sent out, aligning this with when you do your bank reconciliation means customers are never chased incorrectly!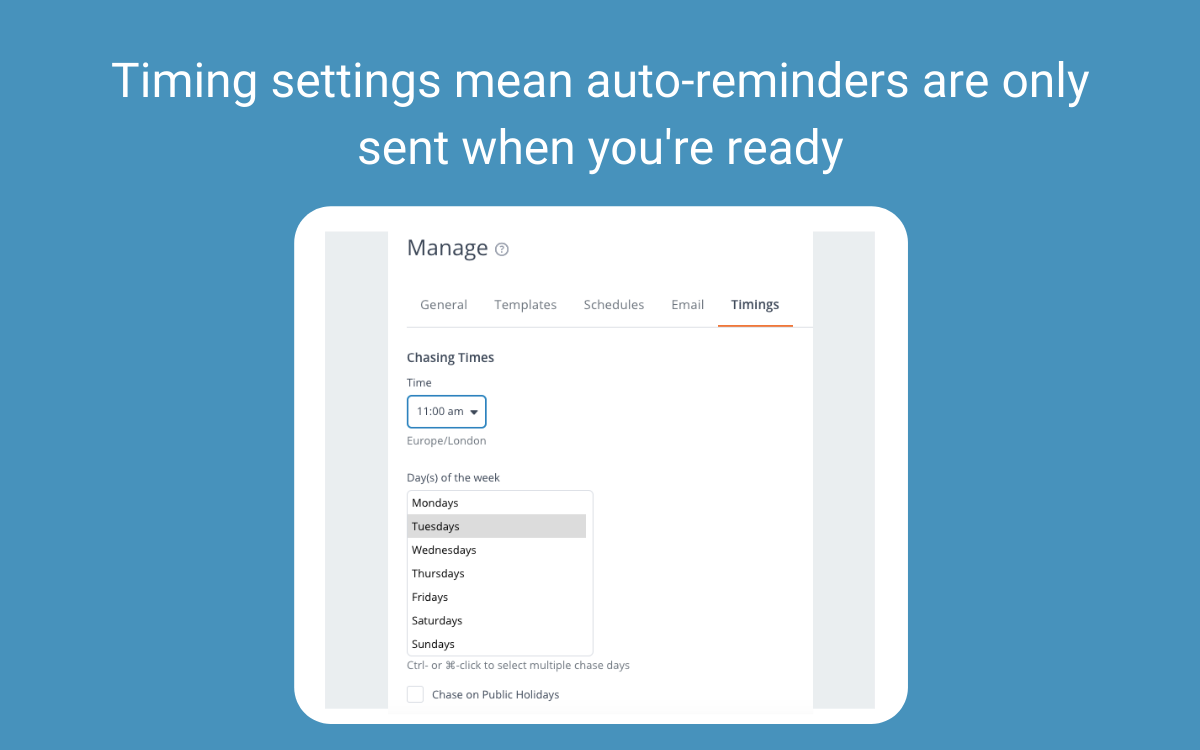 Have full visibility over your credit control
Automated credit control consolidates all of your communications with customers in a CRM, tracking email opens and responses - saving your finance team or your credit controller time piecing together the conversation!
3. Improved Cash Flow
At Chaser, we know that polite persistence is what gets invoices paid. Manually, being polite and persistent can be time-consuming - but automated credit control makes this easy. We've seen 80% of overdue invoices are successfully paid by email chasing alone.
Automating your credit control means more reliable payments from your customers, making it easier for you to cover costs and pay suppliers. Chaser users see an average $22,000 cash flow boost for every $500,000 of turnover. Some users have even seen £287,134 of cash unlocked in just over 2 months!
What next?
Chaser is the market leader in automated credit control, from our 5 years experience helping users chase over $2.7BN in overdue invoices - we've built up some best practice knowledge to help business with their credit control. You can download 2 of our free resources below:
Or, you can try out automating your credit control with Chaser for free for 14 days (no card details required) at: chaserhq.com/signup.