Are you attending QuickBooks Connect 2023 in Las Vegas? If so, make sure not to miss visiting Chaser's booth. Chaser is excited to be exhibiting at this year's event, which is set to take place at the ARIA from Monday, November 12th, to Wednesday, November 15th.

QuickBooks Connect is a global event series that brings together accounting professionals, QuickBooks platform partners, and the ecosystem that surrounds them. The event aims to provide opportunities to learn, be inspired, and build relationships to power our collective growth.

After the success of previous years' events in the US, including Xerocon New Orleans, the Chaser team is looking forward to meeting finance professionals, accountants, and bookkeepers from North America once again and showing them that optimising their accounts receivable process doesn't have to be difficult or time-consuming.

Here are five reasons why you should meet Chaser's accounts receivable experts in Las Vegas.
1. Find out how to get invoices paid on time with receivables automation
During the three-day event, you'll have the chance to meet Chaser's accounts receivable expert who will personally demonstrate how Chaser's accounts receivable automation software can optimise both your accounts receivable process and that of your clients while preserving the essential human touch. With Chaser, you don't have to choose between automation and maintaining customer relationships. Find out how you can effortlessly get customer invoices paid on time through intelligent automation, personalised reminders, and smart follow-ups. In fact, by using Chaser's software some businesses are saving up to 15+ hours per week on accounts receivable tasks and getting paid 54 days faster.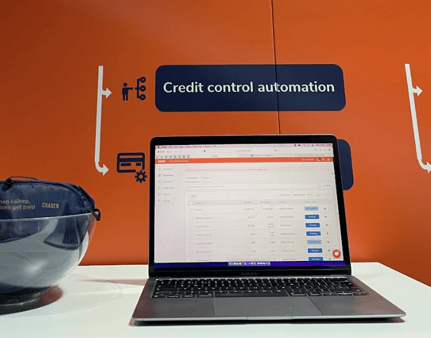 2. Learn 5 steps to get invoices paid faster

Chaser's Product Manager, Charlotte Woods will be hosting a QuickHits session on Monday the 12th of November called Proactiveness Pays | 5 steps to get invoices paid faster.

In this session, discover why a proactive accounts receivable process is crucial for your business's financial health. Join Chaser's accounts receivable expert, Charlotte Woods, and learn 5 proactive strategies that can help you get paid faster and reduce the risk of bad debt. While Chaser's market-leading receivable software integrates seamlessly with QuickBooks, the tips provided will benefit all businesses, not just Chaser users. Attendees will gain a clear understanding of why getting invoices paid on time matters, practical strategies on how to speed up customer payments, and a look into how Chaser integrates with QuickBooks for efficient accounts receivable management.

So, if you're at QuickBooks Connect and haven't already signed up for your sessions, make sure to sign up for Charlotte's one to learn how you can improve your receivable process and get paid faster.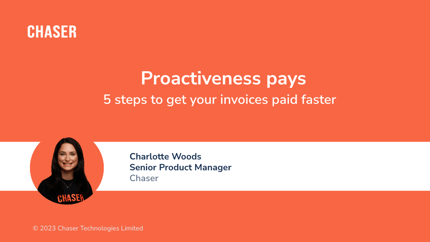 3. See Chaser's new features up close
There have been many exciting developments at Chaser in recent months, and our team at QuickBooks Connect is thrilled to showcase Chaser's latest releases and features and how they can enhance and improve receivables management for your business.

As a sneak peek, one of our newest features, Recommended chasing times helps you get invoices paid faster by allowing your payment reminders to be automatically sent by Chaser on the optimal times and days to increase your chances of receiving payment. Recommended chasing times use artificial intelligence to calculate the optimal timing to send your customers' payment reminders. This calculation is based on your debtors' previous actions following chases being sent, for example; payment made, email reply, email open.

If you'd like to see Recommended chasing times in action or explore our other newly introduced features like Payer ratings, the Days Sales Outstanding graph, or the Late payment predictor, be sure to visit Chaser's stand during this three-day event.
4. Take a look at Chaser's partner central
Chaser's Partner Central works as a dedicated hub for Chaser's accounting and bookkeeping partners, fostering strong client relationships. Trust and information are the cornerstones of successful partnerships, which is why we developed Partner Central—a comprehensive resource center with over 30 resources, continuously expanding. These resources empower Chaser's partners to enhance their clients' accounts receivables processes, elevate client engagement, and collaborate effectively with Chaser.

If you stop by Chaser's stand, you'll have the opportunity to delve deeper into Partner Central and discover the many resources available to Chaser's accounting and bookkeeping partners. Additionally, you can engage with our partnership team to explore collaborative possibilities.

5.
Get your hands on some of Chaser's merchandise
If you've met Chaser at previous tradeshows around the world, such as at Accountex, Xerocon New Orleans, or Xerocon Sydney you might have brought home one of Chaser's merchandise. Throughout the years, we've brought a diverse array of exciting goodies to these events, including the ever-popular orange and navy eye masks, our delightful photo booth, and the summer beach balls that were a huge hit at Xerocon London last year. And let's not forget the famous debtor daze pale ale—an accounting-themed pale ale crafted by one of Chaser's clients, Anspach & Hobday, a renowned London-based craft brewery.

This year, we're not going to break the tradition. However, we'll leave you in suspense a little longer about what we'll be bringing to Las Vegas. If you're curious to see what Chaser has in store for you this year, make sure to pay a visit to booth 44 at QuickBooks Connect.


Merchandise from previous years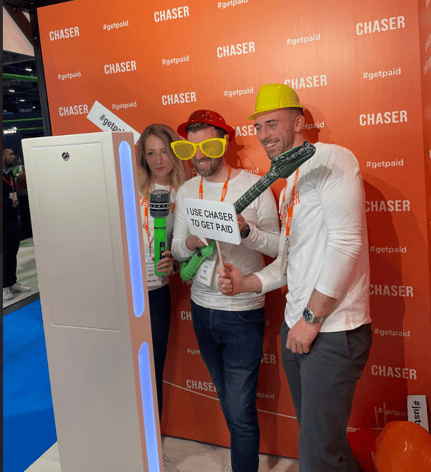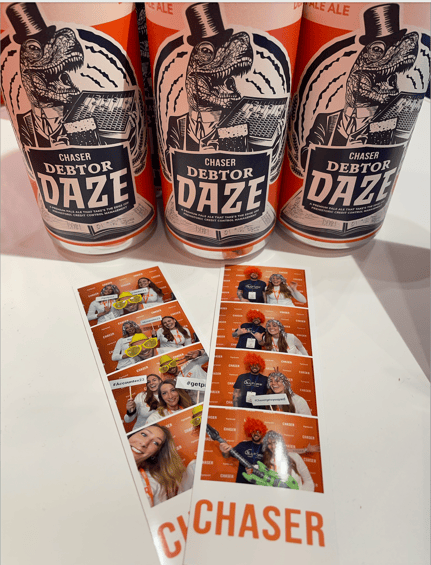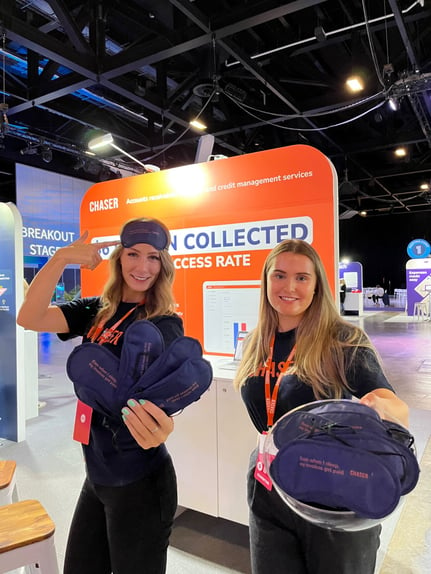 Book a meeting
If you're interested in setting up a meeting with the Chaser team at QuickBooks Connect to explore how Chaser can assist you in increasing your revenue, acquiring new clients, and minimising late payments through receivables automation, please follow this link.